Largest Obama-Era Transfer of Guantánamo Detainees Cuts Prison Population by 20%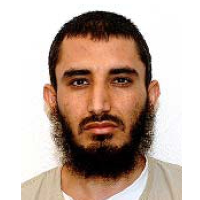 Obaydullah (photo: Wikimedia Commons)
By Charles Savage, New York Times
WASHINGTON — The Pentagon said Monday that it had sent 15 Guantánamo detainees to the United Arab Emirates in the largest single transfer of the Obama administration. The move eliminated a fifth of the wartime prison's remaining population, which dropped to 61.
While it appears increasingly unlikely that President Barack Obama will succeed in closing the prison before he leaves office in January, the transfer brought him significantly closer to another goal: getting out every detainee who has been approved for transfer. Some have been stranded on that list for years because they could not be repatriated.
The detainees sent to the United Arab Emirates included 12 Yemenis and three Afghans. The United States had held each of them without trial for about 14 years. Their departure reduced the list of prisoners approved for transfer to 20 men, although a parole-like review board occasionally adds new names to it.
"The United States is grateful to the government of the United Arab Emirates for its continued assistance in closing the detention facility at Guantánamo Bay," Lee Wolosky, the State Department special envoy who negotiates such transfers, said in a statement.
The Obama administration has made a sustained diplomatic push to persuade Persian Gulf states to resettle detainees from troubled countries like Yemen. U.S. security officials see them as attractive places to send such detainees both because they share the same language and culture, and because they have security agencies with the capacity to monitor them.
Oman was the first Gulf country to provide such help, agreeing to resettle 10 low-level detainees in two batches in early and mid-2015. At a meeting in May 2015 at Camp David with leaders or representatives from the six Gulf Cooperation Council countries, Obama sought to leverage that deal by urging others to help out, too, officials said.
The United Arab Emirates resettled five Yemenis last November. It put them into a modified version of a custodial rehabilitation program it had developed for its own citizens who had been drawn into Islamist extremism, according to officials familiar with the transfer.
In January, Oman resettled another group of 10. And in April, Saudi Arabia resettled nine.
Qatar has taken on a different headache: In 2014, it resettled five high-level Taliban prisoners whom the administration exchanged for Sgt. Bowe Bergdahl. Those former prisoners continue to live there under restrictive conditions.
The transfers announced Monday were approved by Defense Secretary Ash Carter. Under restrictions imposed by Congress, he must tell lawmakers at least 30 days before any transfer that he has determined that security conditions in the receiving country are adequate.
One of the detainees in Monday's transfer, an Afghan named Obaydullah, was arrested in 2002 and accused of hiding anti-tank mines for an insurgent cell. Late in the Bush administration, he was charged in the military commissions system with providing material support for terrorism, although the charge was later withdrawn for technical reasons.
His defense team later visited Afghanistan and reinvestigated his case, developing what it said in 2012 was evidence that the accusations against him were mistaken, although the team failed to persuade a court to order his release. Last spring, however, the review board decided that he should be sent to a country with a strong reintegration program and monitoring capacity.
"In making this determination, the board noted that the detainee has not expressed any intent to re-engage in terrorist activities, has not espoused any anti-U.S. sentiment that would indicate he views the U.S. as his enemy, that neither the detainee nor his family have any ties to extremists outside of Guantánamo, and that the detainee has been mostly compliant while at Guantánamo," the review board explained in a report.
Maj. Derek A. Poteet of the Marines, a military lawyer who helped represent Obaydullah, said he visited his client at the prison about three weeks ago. Obaydullah had already heard a rumor that the United Arab Emirates had agreed to resettle him, he said.
"He had hope on his face and relief when I was able to confirm that hope," Poteet said. "My paralegal and I were in there, and he reassured us that, 'I want to live a life of peace with my family, and I want nothing to do with politics.'"
When Obama took office in 2009, 242 detainees remained at Guantánamo. He has proposed closing it by bringing several dozen detainees who are not approved for transfer to a replacement prison on domestic soil.
But Congress has blocked that plan, and some Republican lawmakers have proposed shutting down transfers of lower-level detainees to other countries, too.
"The pre-eminent responsibility of the federal government is to keep the American people safe, yet the Obama administration's misguided commitment to releasing detainees in order to eventually close Guantánamo unacceptably gambles with our nation's safety," Sen. Kelly Ayotte, R-N.H., said last week.
To Learn More:
"Wrong Guy" Who Spent 14 Years in Gitmo Gets Transfer Hearing (by Britain Eakin, Courthouse News Service)
Clock Ticking on 2008 Campaign Promise, Obama Administration Scrambles to Empty Guantánamo of its Prisoners (by Kathleen Hennessey and Ben Fox, Associated Press)
Why are Pentagon Leaders Trying to Stop Prisoners from being released from Guantánamo? (by Noel Brinkerhoff and Steve Straehley, AllGov)
Only 3 of 116 Remaining Guantánamo Prisoners were Captured by Americans…and 52 Have Already been Cleared for Release (by Noel Brinkerhoff, AllGov)
5 Guantánamo Detainees, Never Charged with a Crime, are Released after 14 Years (by Noel Brinkerhoff and Danny Biederman, AllGov)