Clock Ticking on 2008 Campaign Promise, Obama Administration Scrambles to Empty Guantánamo of its Prisoners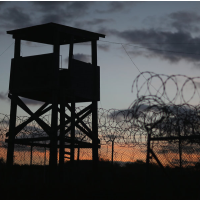 Guantánamo prison (photo: Joe Raedle, Getty Images)
By Kathleen Hennessey and Ben Fox, Associated Press
WASHINGTON (AP) — The Obama administration is running out of time and options to close the Guantánamo Bay detention center in Cuba, so officials are scrambling to release as many prisoners as possible and considering novel legal strategies that include allowing some men to strike plea deals by video-teleconference.
Another option would be to send others to foreign countries to be prosecuted. But it still looks to be too late to close the prison before President Barack Obama leaves office in January, denying him the chance to fulfill a campaign pledge.
There's the difficulty in transferring prisoners from the U.S. base in Cuba, questions about the legality of plea deals and solid opposition in Congress to anything that might help Obama achieve that promise.
"The clock has struck midnight and the American people have won," said Sen. Cory Gardner, R-Colo., who has said he would oppose any effort to move detainees to prison facilities in his state. "The president needs to admit that."
Later this month, lawmakers are on track to extend a ban on moving detainees to U.S. soil. That would leave the president with no way to make the January 2017 deadline, barring an unexpected reversal in Congress or a politically explosive executive order.
The White House increasingly is pointing to a parallel strategy: trying to shrink the number of detainees in hopes of persuading lawmakers that Guantánamo is too expensive to sustain as a prison.
Of the 80 remaining detainees, 30 have been cleared for an overseas transfer. Most will leave starting in late June and continuing into July, according to a U.S. official. Those prisoners will go to a number of countries, including at least one in Europe, said the official, speaking on condition of anonymity because the administration had not authorized public release of the information.
Seven additional detainees are facing trial by military commission, including five charged with planning and supporting the Sept. 11 attacks. Three others have been convicted. But commission proceedings have gone on at a glacial pace. In April, the Pentagon put forward fresh proposals for Guantánamo, but none has been incorporated into defense legislation moving through Congress.
The remaining 40 were either at one time considered for prosecution or held as indefinite "law of war detainees" until the end of hostilities in the fight against terrorism that began after the 2001 attacks. The United States started using Guantánamo for suspects in January 2002; at its peak, the facility held about 680 prisoners.
U.S. officials have chipped away at those numbers through the Periodic Review Board, a multiagency task force that conducts parole-style hearings for men once deemed too dangerous to release.
The board did not hold a hearing until November 2013, but recently it has picked up its pace, holding more than 20 so far this year. Outcomes are leaning heavily in prisoners' favor. If the government keeps up its current pace of about two per week, it wouldn't complete hearings, much less arrange for transfers, until December.
The U.S. also is working with other governments to prosecute some detainees overseas, the official said. These could be prisoners accused of conduct outside the U.S. involving offenses against citizens of other countries. It would otherwise be difficult or impossible to prosecute these men in an American court.
One possible example would be Mohammed Abdul Malik Bajabu, a 42-year-old Kenyan accused of involvement in plots in Mombasa in November 2002: an attack on an Israeli-owned hotel, in which 13 people died, and an unsuccessful attempt to shoot down an Israeli airliner.
The official declined to identify any specific cases but said there could be five to 10 in all.
The defense bill up for debate in the Senate soon includes a provision that would allow detainees to enter guilty pleas — via video teleconference — in federal civilian courts. If a judge accepts the plea, the detainee would be sentenced and transferred to serve that sentence in a foreign prison.
In conversations with advocates, White House officials have said the Justice Department has reservations about such guilty plea proposals. Chief among the concerns is whether the judge could accept the guilty pleas as entered by the defendant knowingly and voluntarily — a bedrock principle of the American criminal justice system — while there is no mechanism in place to stand trial. The prisoner's only other choice is continued, indefinite detention.
The White House has not taken a position, but suggested it is receptive to the idea. The president believes it is "important that we have available to us a variety of tools at our disposal," National Security Council spokesman Myles Caggins said in a statement, which also noted that federal courts have an "outstanding record" of handling terrorism cases.
Ramzi Kassem, a lawyer who has represented many Guantánamo prisoners over the years, including three still held, said the ability to strike a plea deal in federal court would benefit relatively few detainees. He said the renewed administration interest in closing the prison is hard to take seriously now.
"Those efforts and that kind of resolve should have been shown over the course of the eight years of the Obama administration and not in its final moments," said Kassem, a law professor at the City University of New York.
Associated Press writer Eric Tucker contributed to this report.
To Learn More:
Moving Guantánamo Prisoners to Super-Max Prison in Colorado: Obama vs. Congress (by Steve Straehley, AllGov)
Obama Plans $195 Million in Renovation and New Construction at Guantánamo (by Matt Bewig, AllGov)
Guantánamo Prison Stays Open, while the U.S. Office Trying to Close it gets Shut Down (by Noel Brinkerhoff, AllGov)
Difficult Truths about Guantánamo (by Aaron Wallechinsky, AllGov)