"Wrong Guy" Who Spent 14 Years in Gitmo Gets Transfer Hearing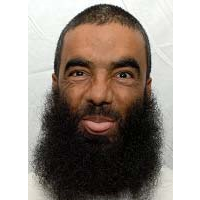 Abdul Zahir
By Britain Eakin, Courthouse News Service
WASHINGTON – A Guantanamo detainee whom the U.S. says it "probably misidentified" 14 years ago finally got a hearing Thursday on his bid for a transfer.
Abdul Zahir, 44, arrived at Guantanamo in October 2002 after the United States captured him during an Afghanistan raid.
U.S. forces were actually targeting another individual named Abdul Bari, which happens to be an alias Zahir used. The U.S. says it believed Bari was involved in chemical and biological weapons production and distribution for al-Qaida.
The supposed chemical or biological agents that U.S. forces seized during the raid turned out to be salt, sugar and petroleum jelly.
An anonymous female voice described the revelation at Thursday's hearing of the Periodic Review Board while reading aloud Zahir's unclassified profile.
Calling Zahir by his internment serial number, the female voice said he has offered "no actionable information relative to al-Qaida's weapons network, and we assess that AF-753 was probably misidentified as the individual who had ties to al-Qaida weapons facilitation activities."
The closed-circuit television broadcasting this morning's hearing to the Pentagon showed Zahir dressed in a white shirt, with a long, dark and bushy beard. He slipped his glasses on and off as he read his hearing documents during the proceedings.
A statement from Zahir's attorney says the Afghan was picked up because of his association with high-value detainee Abd al-Hadi al-Iraqi, an alleged senior member of al-Qaida who the U.S. charged with war crimes.
Though the statement is attributed to Robert Gensburg, of Gensburg, Atwell & Greaves in Vermont, David Sleigh with Sleigh Law appeared before the board to read it in the public portion of the hearing.
Zahir served as a translator between the Taliban and al-Iraqi, according to the statement, but he has told the U.S. he "was coerced to do so under threats to his family's safety."
Though Zahir's unclassified profile says he denies involvement with the Taliban beyond his role as a translator, the U.S. believes he served as a low-level Taliban member.
Zahir nevertheless has "never made statements clearly endorsing or supporting al-Qaida or other extremist ideologies and since at least 2003 he has sought to distance himself from any allegiance to the group," according to the profile.
It says Zahir "has expressed frustration with the United States over his detention and his perception that he has been charged with a crime, but he does not appear to view the U.S. as his existential enemy."
Since Zahir's October 2002 arrival at Guantanamo, the detainee has sought a hearing "to determine the validity of the claims that the government has made about him," Sleigh told the review board.
Gensburg has worked to schedule this hearing for years, Sleigh added.
"Had he been given that hearing, it would have become obvious that he does not pose a threat, significant or otherwise, to the security of the United States," Sleigh told the board.
According to his anonymous female military representative, Zahir has become a poet in the time the U.S. has held him without charge or trial at Guantanamo. Some of the many poems he wrote were submitted to the board, along with many documents from his Afghan village, the blonde read from her public statement.
Sleigh noted that Afghanistan's minister of information and culture, Abdul Bari Jahani who is also a poet, submitted a strong letter of support.
"Minister Jahani was as taken with Abdul Zahir as I was," Sleigh told the board on behalf of Gensburg.
Zahir has also compiled a book he calls "Future Plans," part of his preparation effort to appear before the board. His representative indicated that she submitted a portion of the book "to show a little bit about how he views the world now."
The detainee's representative said Zahir has a different vision for his future now.
"Abdul has told me that he knows that what he did in the past was wrong, but at the time he was only concerned with feeding his children. He now realizes that his work was not legitimate and has expressed regret for his past decisions," she said, presumably about Zahir's translation work for al-Iraqi.
Zahir would like to be transferred someplace where it is legal to have two wives, his representative told the board. Despite his insistence that they move on, his wives have remained faithful and Zahir wants to reunite with them, along with his three sons, the youngest whom he has never met.
Zahir has suffered from mental health problems while at Guantanamo, which Sleigh says appear to be under control now, however he has developed permanent physical problems while incarcerated.
The Periodic Review Board should issue a final ruling on Zahir within the next few months.
To Learn More:
Only 3 of 116 Remaining Guantánamo Prisoners were Captured by Americans…and 52 Have Already been Cleared for Release (by Noel Brinkerhoff, AllGov)
5 Guantánamo Detainees, Never Charged with a Crime, are Released after 14 Years (by Noel Brinkerhoff and Danny Biederman, AllGov)
Why is there a Hunger Strike at Guantánamo? (by Noel Brinkerhoff and David Wallechinsky, AllGov)