Why are Pentagon Leaders Trying to Stop Prisoners from being released from Guantánamo?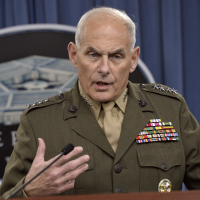 Marine Corps General John Kelly (photo: Glenn Fawcett, Defense Dept.)
Efforts by the Obama administration to release detainees from Guantanamo and send them to other countries have been stymied by the Department of Defense.
A Reuters investigation found numerous examples of Pentagon officials putting up bureaucratic roadblocks that delayed or completely derailed attempts by the State Department to negotiate the release of detainees with other governments.
The Pentagon has "been throwing up bureaucratic obstacles to thwart the president's plan to close Guantanamo" since he took office in 2009, Charles Levinson and David Rohde wrote for Reuters.
Some military officials say much of the pushback is coming from Marine Corps General John Kelly, who is in charge of the Southern Command, of which Guantanamo is a part. Kelly had a son who was killed fighting the Taliban in Afghanistan and the general has put up roadblocks in the way of officials from other nations who attempt to interview prisoners for possible resettlement.
One former State Department official, James Dobbins, who served as special representative to Afghanistan and Pakistan from 2013 to 2014, said talking over prisoner releases with the Pentagon was like "punching a pillow."
Defense officials "would come to a meeting, they would not make a counter-argument," he said. "And then nothing would happen."
The actions, or inactions, on the part of military leaders resulted in four Afghan detainees spending an additional four years in Guantanamo after being approved for transfer. In addition, the transfer of six prisoners to Uruguay, five to Kazakhstan, one to Mauritania and one to Britain were delayed for months or years because of Pentagon resistance or holdups.
Pentagon officials have used a variety of delaying tactics to thwart transfers, such as refusing to provide photographs or complete medical records or other basic documentation to foreign governments willing to take detainees.
-Noel Brinkerhoff, Steve Straehley
To Learn More:
Special Report: Pentagon Thwarts Obama's Effort to Close Guantanamo (by Charles Levinson and David Rohde, Reuters)
Moving Guantánamo Prisoners to Super-Max Prison in Colorado: Obama vs. Congress (by Steve Straehley, AllGov)
Federal Judge says Prisoner must Stay at Guantánamo because U.S. is Still at War in Afghanistan even if Obama Says War is Over (by Noel Brinkerhoff, AllGov)
Obama Plans $195 Million in Renovation and New Construction at Guantánamo (by Matt Bewig, AllGov)