5 Guantánamo Detainees, Never Charged with a Crime, are Released after 14 Years
Thursday, November 19, 2015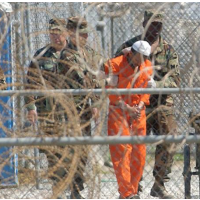 Detainee being escorted through Guantánamo prison (AP photo)
Five more detainees from Guantánamo have been released, following 14 years of imprisonment without being charged with a crime.
All five are from Yemen, but the ongoing war there made it impossible for the U.S. to send them back home. Instead, the Obama administration convinced the United Arab Emirates (UAE) to take the men. The UAE had taken another Guantánamo detainee in 2008—one of its own citizens.
The detainees, who were captured in 2001 near the Afghanistan-Pakistan border, are Khalid Abd Jal Jabbar Muhammad Juthman al Qadasi, Sulaiman Awath Sulaiman Bin Ageel al Nahdi, Fahmi Salem Said al Sani, Adil Said al Haj Obeid al Busayss, and Ali Ahmad Muhammad al Rahizi.
Four of the men had been recommended for transfer by a 2009 task force set up to review the cases of Guantánamo prisoners. The fifth had been denied transfer by that task force, but a review board later cleared him.
The notorious military facility in Cuba still has 107 detainees, 48 of which have been approved for transfer. Seventeen more "proposed transfers of lower-level detainees are in the bureaucratic pipeline," according to The New York Times.
President Obama is expected to sign the annual defense authorization bill any day now, which contains restrictions—imposed by lawmakers—intended to freeze any additional detainee transfers through 2017, according to Defense One. That order could be the final nail in the coffin for Obama's pledge to close the prison, unless he does so by executive order.
-Noel Brinkerhoff, Danny Biederman
To Learn More:
5 Yemeni Guantánamo Inmates Are Sent to United Arab Emirates (by Charlie Savage, New York Times)
Pentagon Transfers 5 Guantanamo Detainees to the UAE as Battle Over Closure Heats Up (by Molly O'Toole, Defense One)
Yemeni Spent 13 Years at Guantánamo because a U.S. Soldier Confused the Name of a Village with Al-Qaeda (by Noel Brinkerhoff, AllGov)
Only 3 of 116 Remaining Guantánamo Prisoners were Captured by Americans…and 52 Have Already been Cleared for Release (by Noel Brinkerhoff, AllGov)