Ambassador of Pakistan to the United States: Who Is Aizaz Ahmad Chaudhry?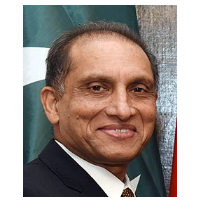 Aizaz Ahmad Chaudhry
Pakistan's ambassador to the United States, since March 13, 2017, is Aizaz Ahmad Chaudhry, a 36-year veteran of the Pakistan Foreign Service who most recently served as foreign secretary of Pakistan from December 2013 to March 2017. He succeeds Jalil Abbas Jilani, who chose retirement over an extended term in Washington. Chaudhry presented his credentials to President Donald Trump on April 24, 2017.
Born on February 27, 1958, Aizaz Ahmad Chaudhry graduated PAF College Sargodha, a college prep school run by the Pakistan Air Force, in 1978. He earned a Bachelor of Science degree and a Master's degree in Political Science at Punjab University in Lahore, Pakistan, and a Masters in International Relations at Tufts University's Fletcher School of Law and Diplomacy in 1990.
Chaudhry joined the Foreign Service of Pakistan in 1980, starting his career by taking government courses at the Civil Service Academy in Lahore in 1981 and the Foreign Service Training Institute in Islamabad in 1981-1982. His first posting was also educational, as a language trainee at the Pakistani Embassy in Cairo, Egypt, in 1983.
Chaudhry served as third/second secretary at Pakistan's embassy in Doha, Qatar, from 1984 to 1987, and from 1988 to 1991 held jobs in several offices of the Foreign Ministry in Islamabad.
From 1991 to 1997, Chaudhry served in Tehran, Iran, as chef de cabinet to the secretary general of the Economic Cooperation Organization (ECO), an intergovernmental organization founded in 1985 by Pakistan, Turkey, and Iran to promote free trade in Central Asia. ECO now has ten members (Afghanistan, Azerbaijan, Iran, Kazakhstan, Kyrgyzstan, Pakistan, Tajikistan, Turkey, Turkmenistan, and Uzbekistan) with a population of 460 million and GDP of $1.75 billion.
From 1997 to 1999, Chaudhry served as chef de cabinet to the foreign secretary and participated in India-Pakistan Foreign Secretary level talks.
In his first posting to the Western Hemisphere, Chaudhry served as political counsellor and then as deputy permanent representative to the United Nations in New York from 1999 to 2006.
In 2007, Chaudhry served as director general of the Organization of Islamic Cooperation (OIC). He led the Pakistani diplomatic team, chaired several OIC meetings, and organized an OIC Conference of Foreign Ministers in Islamabad in May 2007.
From 2007 to 2009, Chaudhry served as director general for South Asia and represented Pakistan at the South Asian Association for Regional Cooperation.
For his first ambassadorship, he served as ambassador to the Netherlands from 2009 to 2012, where he wrote a book Pakistan Mirrored to Dutch Eyes.
From 2012 to March 2013, Chaudhry served as additional foreign secretary, focusing on issues related to the United Nations and other international organizations, economic coordination, and disarmament affairs, and then served as the Foreign Ministry spokesperson from March to December 2013. As brief as was his term as spokesperson, Chaudhry found himself in an awkward position when secret documents were published showing that the Pakistani government had cooperated with the CIA's drone bombing program inside Pakistan's borders. Chaudhry was left to explain that even if this was true, the current government, installed four months earlier, would not continue the complicity, stating "We regard such strikes as a violation of our sovereignty as well as international law. They are also counter-productive."
Chaudhry and his wife, Najia Aizaz Ahmad, the former president of the Pakistan Foreign Office Women's Association, have three children.
-Matt Bewig
To Learn More:
Conversations in Diplomacy: Aizaz Ahmad Chaudhry and Adil Najam (Harvard Kennedy School Belfer Center) (audio)