Adoption of Foreign Children by Americans Drops to Lowest Level in 35 Years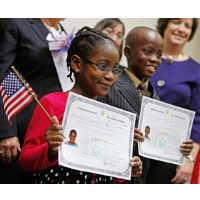 Liberian siblings, adopted by Americans, show U.S. citizenship certificates (photo: Chip Somodevilla, Getty Images)
By David Crary, AP National Writer
NEW YORK (AP) — The number of foreign children adopted by U.S. parents dropped by 12 percent last year to the lowest level since 1981, according to new State Department figures.
The department's report for the 2015 fiscal year shows 5,648 adoptions from abroad, down from 6,438 in 2014 and about 75 percent below the high of 22,884 in 2004. The number has fallen every year since then, to the frustration of many adoption advocates in the U.S.
China, as is customary, accounted for the most children adopted in the U.S. Its total of 2,354 was up 15 percent from 2014, but far below the peak of 7,903 in 2005.
However, there was a sharp drop in adoptions from other countries that had been high on the 2014 list: The numbers fell from 716 to 335 for Ethiopia, from 521 to 303 for Ukraine and from 464 to 143 for Haiti.
Even with the decline, Ethiopia was No. 2 on the list, followed by South Korea, Ukraine, Uganda, Bulgaria, Latvia and Congo.
Lawmakers in Uganda passed a bill in March that sets tough new conditions for adoptions by foreigners, so its numbers may drop for the 2016 fiscal year from 202 in 2015. The numbers from Congo may rise from the 168 adoptions reported for 2015; authorities there have finally begun issuing long-delayed exit permits for many children who'd been stuck there for more than two years despite court approval of their adoptions.
There were no adoptions from Russia, which once accounted for hundreds of U.S. adoptions each year, but imposed a ban that fully took effect in 2014. The ban served as retaliation for a U.S. law targeting alleged Russian human-rights violators.
The last time there were fewer foreign adoptions to the U.S. overall was in 1981, when, according to U.S. immigration figures, there were 4,868 adoptions from abroad.
Concerns about corruption, child-trafficking and baby-selling have prompted the United States to suspend adoptions from several countries in recent years, including Vietnam, Cambodia, Guatemala and Nepal.
Guatemala, which for a few years provided the most children for U.S. adoptions, accounted for 13 last year — cases that were pending when adoptions were suspended in 2007. Nepal accounted for two U.S. adoptions last year; there were none from Vietnam and Cambodia.
In each case, U.S. officials have been working with local authorities to curtail corruption and trafficking, with the goal of eventually giving the go-ahead for resumption of some foreign adoptions.
Chuck Johnson, CEO of the National Council of Adoption and a critic of State Department adoption policy, expressed dismay at the stead overall decline, saying the world's orphan population was growing annually by millions.
Many countries "are begging the U.S. for help establishing intercountry adoption programs — and the U.S. has been slow to respond," Johnson said in an email.
He said some relatively impoverished nations have been told to improve their child welfare systems and cut down on child trafficking in order to qualify for a full-fledged adoption arrangement with the United States. Yet these countries often lack the resources to meet the goals set by U.S. officials, Johnson contended.
"The absolute reality is that unadopted children are the most likely to be trafficked," Johnson wrote. "There are tens of thousands of Americans — and many in other countries too — who want to open their hearts and homes to children, but are not considered a viable alternative."
However, Johnson said he was encouraged that some State Department officials now seemed committed to reversing the decline in adoptions to the extent possible.
The State Department reported that 93 American children were adopted by residents of foreign countries last year — 39 of them went to Canada and 37 to the Netherlands.
To Learn More:
Guatemalan Court Orders Return of Child Kidnapped for Illegal Adoption in U.S. (by Noel Brinkerhoff, AllGov)