Guatemalan Court Orders Return of Child Kidnapped for Illegal Adoption in U.S.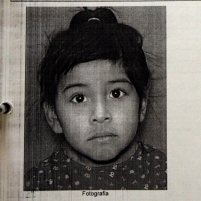 Anyelí Liseth Hernández Rodríguez (photo of passport: Erin Siegal)
Loyda Rodriguez Morales, the mother of Anyelí Liseth Hernández Rodríguez, searched for nearly five years to locate her daughter, and with the help of a human rights group, the Survivors Foundation, filed a court case in Guatemala.
The judge's order is considered unprecedented in the world of international adoptions, and if the U.S. complies, it would be the first time a government has ordered its own citizens to return a child to its native country.
The American couple, Timothy James Monahan and Jennifer Lyn Vanhorn Monahan of Liberty, Missouri, has not been accused of stealing the child. Rather, a child trafficking ring likely kidnapped the girl and delivered her to the U.S.
-Noel Brinkerhoff