U.S. Could be Found Complicit in War Crimes over Role in Saudi Atrocities in Yemen, Say Rights Groups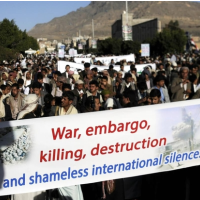 Yemeni citizens protest U.S. munitions sales to Saudi Arabia, 2015 (photo: Getty Images)
By Dave Bryan, Associated Press
UNITED NATIONS (AP) — Saudi Arabia should be suspended from the U.N.'s top human rights organization because of indiscriminate airstrikes by the Saudi-led military coalition in Yemen that have killed hundreds of civilians, including women and children, human rights groups said Wednesday.
Officials with Amnesty International and Human Rights Watch told reporters at a joint news conference that their investigators documented 69 unlawful airstrikes by the U.S.-backed coalition that killed at least 913 civilians — including about 200 children. They said airstrikes hit homes, markets, hospitals, schools and mosques.
The groups also said they documented 19 coalition attacks involving internationally banned cluster munitions, including in civilian areas.
The rights groups also argued that if Saudi Arabia is found guilty of war crimes, the U.S. could be complicit because it provides airstrike targeting information as part of its support for the Saudi-led coalition.
Mark Toner, deputy U.S. State Department spokesman, would not comment Wednesday on either allegations of potential U.S. complicity in war crimes in Yemen or whether Saudi Arabia should be removed as a member of the Human Rights Council.
"I'm not going to speak to ... that, other than that we work very closely, as I said, to urge all sides to show respect for civilians and to certainly not target civilians, but indeed, to protect civilians and comply with international humanitarian law," he said.
The rights groups argued that Saudi Arabia should be removed from the U.N. Human Rights Council until it ends such attacks and an independent investigation is completed.
"Yemen has become a hellish place for children," said Philippe Bolopion, HRW's deputy director for Global Advocacy.
Messages left with Saudi Arabia's ambassador to the U.N. seeking comment were not returned.
Under U.N. rules, a two-thirds majority of the General Assembly would be needed to suspend the rights of any Human Rights Council member and some observers said that would prove difficult.
Yemen's conflict, which began in March 2015, pits Houthi rebels and their allies against the internationally recognized government, backed by the Saudi-led coalition of mainly Arab states. The conflict has killed an estimated 9,000 people and pushed the Arab world's poorest country to the brink of famine.
The two rights groups said that in 2015, Saudi Arabia used its position on the Human Rights Council to obstruct creation of an independent investigation into alleged violations by all sides in the Yemen conflict. The Saudis, with the backing of allies, came up with their own resolution, which has not led to any credible investigation into coalition attacks, the rights groups said.
The criticism comes after U.N. Secretary-General Ban Ki-Moon earlier this month temporarily removed the Saudi coalition from a blacklist of countries and armed groups that violate child rights, saying the Saudis and their supporters threatened to stop funding many U.N. programs.
Ban, nevertheless, said he stood by the report, which verified a total of 1,953 youngsters killed and injured in Yemen last year and it attributed about 60 percent of those casualties to the coalition forces.
Ban and Saudi Arabia's Deputy Crown Prince have since discussed measures to improve the situation on the ground in Yemen. And the Coalition to Restore Legitimacy in Yemen — Egypt, Bahrain, Jordan, Kuwait, Morocco, Qatar, Saudi Arabia, Senegal, Sudan and the United Arab Emirates — has said it is ready to cooperate with U.N. bodies.
Associated Press writer Bradley Klapper in Washington contributed to this report.
To Learn More:
U.S. Cluster Bombs Used by Saudis in Yemen May Violate U.S. Law (by Rick Gladstone, New York Times)
Obama Administration Ignores Human Rights Considerations, Approves Lockheed's $11 Billion Sale of Military Equipment to Saudi Arabia (by Steve Straehley, AllGov)
U.S. "Concern" Over Yemen Crisis Belies Its Military Support of Saudi Coalition Bombing (by Noel Brinkerhoff, AllGov)
In an Overlooked War, Saudis Use U.S.-Made Weapons to Kill Civilians in Yemen (by Noel Brinkerhoff, AllGov)
Saudi Arabia Military Ignores Restrictions on Use of U.S.-Made Cluster Bombs Maiming Civilians in Yemen (by Steve Straehley, AllGov)