U.S. "Concern" Over Yemen Crisis Belies Its Military Support of Saudi Coalition Bombing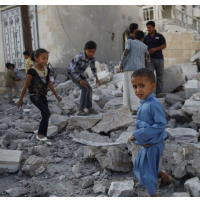 Yemeni children play in rubble of house destroyed in a Saudi airstrike (photo: Hani Mohammed, AP)
The Saudi Arabia-led coalition fighting rebels in Yemen has unleashed hundreds of attacks on that country since the spring, creating a humanitarian crisis and leading the U.S. to express its "deep concern" for the unfolding tragedy.
But the underlying truth of the U.S. position towards Yemen is its support for Saudi Arabia to take the lead in attacking the Houthis, who displaced the American-backed government earlier this year. While the airstrikes against the rebels have not been carried out by the U.S., the attacks have included U.S.-made weaponry sold to the Saudis.
In particular, the Saudis have used U.S.-made cluster bombs in Yemen. The Saudis obtained 1,300 cluster bombs in a 2013 deal with U.S. defense contractor Textron Defense Systems, which made $640.8 million from the sale approved by the Pentagon. The United Arab Emirates has also purchased cluster bombs from Textron.
The United States also provides 45 intelligence personnel to help with targeting support for the Saudis, refuels Saudi jets with air tankers and provides search-and-rescue support for downed Saudi pilots, according to the Council on Foreign Relations.
The ongoing air war has had an enormous impact on the civilian population.
"Yemenis were some of the poorest people in the world before the American-backed coalition began its military campaign in March. Now they're also some of the most desperate," Paul O'Brien wrote at Foreign Policy.
O'Brien wrote that "more than 21 million of Yemen's 25 million people now require some form of aid to survive, and more than 1.5 million have fled their homes. Oxfam is currently supplying clean water to nearly 300,000 people and helping prevent the spread of disease in affected communities."
-Noel Brinkerhoff
To Learn More:
Yemen Doesn't Need the Obama Administration's 'Deep Concern' (by Paul O'Brien, Foreign Policy)
Obama's War of Choice: Supporting the Saudi-led Air War in Yemen (by Micah Zenko, Council on Foreign Relations)
The Human Cost of Saudi Arabia's Air War in Yemen, in Photos (photos by Adam Bailes and text by Bryan Schatz, Mother Jones)
Saudi Arabia Military Ignores Restrictions on Use of U.S.-Made Cluster Bombs Maiming Civilians in Yemen (by Steve Straehley, AllGov)
Saudi Military Kills Civilians Using Widely Banned U.S.-Supplied Cluster Bombs (by Noel Brinkerhoff, AllGov)
Obama Administration Gives Textron $641 Million Contract to Sell Cluster Bombs to Saudi Royal Family (by Noel Brinkerhoff, AllGov)