Obama Administration Ignores Human Rights Considerations, Approves Lockheed's $11 Billion Sale of Military Equipment to Saudi Arabia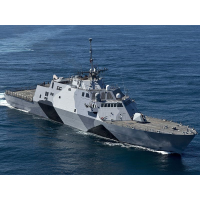 Littoral combat ship (photo: 1st Class James R. Evans, U.S. Navy)
President Obama puts up a good show of standing up for human rights, but in a choice between principles and money, money talks.
The Obama administration last week approved an $11.25 billion sale of up to four warships, along with associated training, logistics and equipment, to the Kingdom of Saudi Arabia, according to Reuters. The sale comes despite that government's continued violations of human rights, both at home and on the battlefields of Yemen.
The Royal Saudi Air Force has caused thousands of civilian casualties in Yemen with its use of cluster bombs that kill indiscriminately. At home, the Saudi government still beheads criminals, even for non-violent offenses. One person was executed for "sorcery."
But the important thing to the U.S. government and to contractor Lockheed Martin is that the kingdom's check clears. In return for their money, Saudi Arabia will get up to four littoral combat ships similar to those going into service now with the U.S. Navy.
"We stand ready to support that sale," chief executive officer of Lockheed, Marillyn Hewson, reported to analysts on an earnings call, according to TeleSUR.
The sale marks the first major export of U.S.-built warships in years, according to Reuters. "This sale demonstrates the enduring U.S. commitment to building robust diplomatic and security partnerships essential to promoting peace and stability in the Gulf region," one U.S. official who was not authorized to speak publicly told the news service.
Congress has 30 days to block the sale, but that's unlikely to happen.
-Steve Straehley
To Learn More:
U.S. Approves $11.25 Billion Military Sale to Saudi Arabia (TeleSUR)
U.S. Approves $11.25 Billion Warship Sale to Saudi Arabia (by Andrea Shalal, Reuters)
Saudi Arabia Military Ignores Restrictions on Use of U.S.-Made Cluster Bombs Maiming Civilians in Yemen (by Steve Straehley, AllGov)
Saudi Arabia Remains on U.N. Human Rights Council despite 19 Beheadings, including One for "Sorcery" (by Noel Brinkerhoff and Steve Straehley, AllGov)
Obama Approves $29 Billion Fighter Jet Sale from Boeing to Saudi Royal Family (by David Wallechinsky and Noel Brinkerhoff, AllGov)