U.S. Cluster Bombs Used by Saudis in Yemen May Violate U.S. Law
Tuesday, February 16, 2016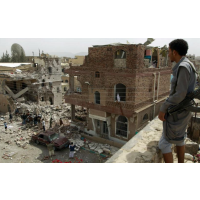 Devastation in Yemen caused by Saudi bombing (photo: Getty Images)
By Rick Gladstone, New York Times
Human Rights Watch released a report Sunday providing new indications that Saudi Arabia has fired U.S.-made cluster munitions, banned by international treaty, in civilian areas of Yemen, and said their use may also violate U.S. law.
The report included photographs from Yemen purporting to show unexploded but potentially lethal remnants of U.S. cluster weapons, suggesting that they had failed legally required reliability standards.
If confirmed, the report could put embarrassing new pressure on the United States over support for its ally Saudi Arabia in the Yemen conflict. The Americans have sold arms and furnished training and expertise to a Saudi-led coalition that has faced widespread criticism for what rights groups call an indiscriminate bombing campaign against Yemen's Houthi rebels in nearly 11 months of fighting that has devastated the country.
"Saudi Arabia and its coalition partners, as well as their U.S. supplier, are blatantly disregarding the global standard that says cluster munitions should never be used under any circumstances," Steve Goose, the arms director at Human Rights Watch, said in the report.
Human Rights Watch and other rights groups have previously accused Saudi Arabia of using cluster munitions in Yemen, including in a Jan. 6 strike in Sanaa, the capital, and have increasingly criticized the United States as an accomplice of Saudi policy.
In a Jan. 12 letter to President Barack Obama, Megan Burke, director of the Cluster Munition Coalition, a disarmament group, urged him to "demand that Saudi-led coalition members stop using cluster munitions," and said the United States "should investigate its own role in the recent strikes."
There was no immediate comment by officials from Saudi Arabia or the United States on the Human Rights Watch report. Saudi officials have repeatedly denied accusations of the use of cluster munitions in Yemen.
Cluster munitions contain submunitions, or bomblets, that are dispersed over a wide area and kill indiscriminately. Many bomblets can also fail to explode, threatening civilians long after fighting has stopped. A 2008 treaty bans the weapons, but major arms suppliers, including the United States and Russia, have not signed it.
Sensitive to the criticism, the United States has severely restricted exports of cluster munitions and has sought to improve technology to minimize collateral damage. Under a 2009 law, only cluster munitions with a failure rate of 1 percent or less can be exported, and they can be used only against "clearly defined military targets," not "where civilians are known to be present."
The latest Human Rights Watch report dwelled on what it described as potential violations of that law, based partly on evidence that one type of U.S. cluster bomb sold to the Saudis, the CBU-105 Sensor Fuzed Weapon, had been used in at least two attacks and had a failure rate exceeding 1 percent, as its submunitions failed either to completely disperse or to explode. "The evidence raises serious questions about compliance with U.S. cluster munition policy and export rules," Goose said.
To Learn More:
Obama Administration Ignores Human Rights Considerations, Approves Lockheed's $11 Billion Sale of Military Equipment to Saudi Arabia (by Steve Straehley, AllGov)
U.S. "Concern" Over Yemen Crisis Belies Its Military Support of Saudi Coalition Bombing (by Noel Brinkerhoff, AllGov)
In an Overlooked War, Saudis Use U.S.-Made Weapons to Kill Civilians in Yemen (by Noel Brinkerhoff, AllGov)
Saudi Arabia Military Ignores Restrictions on Use of U.S.-Made Cluster Bombs Maiming Civilians in Yemen (by Steve Straehley, AllGov)