Saudi Arabia Military Ignores Restrictions on Use of U.S.-Made Cluster Bombs Maiming Civilians in Yemen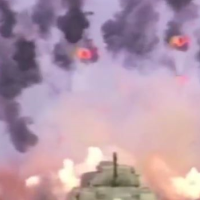 (photo: Textron Systems)
The U.S. government authorized the sale of millions of dollars' worth of cluster bombs to Saudi Arabia and the United Arab Emirates (UAE) with the provision that "cluster munitions will only be used against clearly defined military targets and will not be used where civilians are known to be present or in areas normally inhabited by civilians." Yet Human Rights Watch (HRW) found that the munitions the Saudi military has used cluster bombs in civilian areas and wounded several people in at least one incident.
A Yemeni man described to HRW an attack using the weapons. "When people saw the parachutes they fled, leaving all their produce, cars and livestock. I went to find out what the parachutes had dropped. I do not know what it is, but I thought it was important to keep away from children who might play with it."
The weapon is the CBU-105 Sensor Fuzed Weapon manufactured by Texron Systems, of Wilmington, Massachusetts. Texron claims the bomb is designed to be used only on specific targets and will either pre-destruct or be rendered inert if it doesn't hit what it was aimed at.
Perhaps Texron needs to go back to the drawing board. Not only have civilians been injured by the CBU-105, but unexploded components of the bombs have been found on the ground. There is concern that those looking to sell the bombs as scrap will be injured by them.
The Saudi military says they're following U.S. guidelines on how the weapons are used. Democratic Rep. Jim McGovern of Massachusetts has introduced legislation to limit the sales of cluster bombs. Although it has never moved forward, some of its language is used in the sales agreements with Saudi Arabia and the UAE. Still, civilian casualties continue.
"You know, I'm for banning these weapons, and the best we've been able to do is to put some rules and regulations around their export and how they're used, and clearly that's not enough," McGovern said, according to Public Radio International. "Do we just throw up our hands and say it's too bad [the Saudis] didn't comply with U.S. law, and oh boy that's just tough? Or do we actually make sure that our laws mean something? I think if a country violates the law, and uses these weapons in the way that the Saudis did, they ought not to get any more."
There are 116 countries that are signatories to the Convention on Cluster Munitions, which bans such weapons. Not coincidentally, the United States, Saudi Arabia and the UAE aren't among them.
-Steve Straehley
To Learn More:
Yemenis Are Terrorized By a Weapon Made in America, Sold to the Saudis (by Stephen Snyder, PRI)
Yemen: Cluster Munitions Harm Civilians (Human Rights Watch)
Saudi Military Kills Civilians Using Widely Banned U.S.-Supplied Cluster Bombs (by Noel Brinkerhoff, AllGov)