On World Stage, Rex Tillerson Has Put Exxon's Interests First, at Expense of United States
Wednesday, December 14, 2016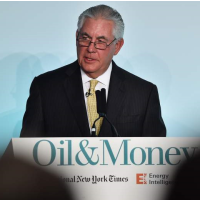 Rex Tillerson (photo: Getty)
By Ben Hubbard, Dionne Searcey and Nicholas Casey, New York Times
BEIRUT — Struggling to keep Iraq from splintering, American diplomats pushed for a law in 2011 to share the country's oil wealth among its fractious regions.
Then Exxon Mobil showed up.
Under its chief executive, Rex W. Tillerson, the giant oil company sidestepped Baghdad and Washington, signing a deal directly with the Kurdish administration in the country's north. The move undermined Iraq's central government, strengthened Kurdish independence ambitions and contravened the stated goals of the United States.
Tillerson's willingness to cut a deal regardless of the political consequences speaks volumes about Exxon Mobil's influence. In the Iraq case, Tillerson and his company outmaneuvered the State Department, which he has now been nominated by President-elect Donald Trump to lead.
"They are very powerful in the region, and they couldn't care less about what the State Department wants to do," Jean-François Seznec, a senior fellow at the Atlantic Council, a research group in Washington, said of Exxon Mobil's pursuits in the Middle East.
As the United States' biggest oil company, with operations on six continents and a stock market value of more than $390 billion, Exxon Mobil is in some ways a state within a state. While Tillerson has never officially been a diplomat, he has arguably left an American footprint on more countries than any nominee before him — with an agenda overseas that does not always mesh with that of the U.S. government.
Under Tillerson, Exxon Mobil has struck lucrative deals with repressive governments in Africa, clashed with China and befriended Vietnam over disputed territory in the South China Sea, learned from hard experience in Venezuela, and built a close rapport with Russia at a time of deepening mistrust between the Kremlin and the West.
Trump emphasized the unique role Tillerson had played in pursuing his company's interests around the world, announcing the selection Tuesday by saying that Tillerson's "tenacity, broad experience and deep understanding of geopolitics make him an excellent choice for secretary of state."
But the task is a new one for Tillerson, who as chief executive made it clear that a broad range of national interests and diplomatic priorities were not his main concern. His focus was access to energy.
"And if we're able to do that, where it comes from should be of little consequence to us, if it's reliable," he said at the Council on Foreign Relations in June 2012.
Tillerson's first big overseas test came soon after he became Exxon Mobil's chief executive in 2006, when he confronted the government of Venezuela head-on — and suffered the consequences.
The company had worked in Venezuela for decades, but then-President Hugo Chávez, calling for a socialist-inspired revolution to benefit the poor, began renegotiating the industry's contracts. By 2007, the Venezuelan government set its sights on projects that included oil industry titans like Exxon Mobil, Chevron and Total.
Foreign companies soon began cooperating with Chávez's government, but Exxon Mobil and another company, ConocoPhillips, balked at the changes.
"From the very beginning, Exxon sent strong signals that they would not be run over, they would use all their legal rights, and they would be more confrontational," said Francisco Monaldi, a former consultant for Venezuela's state oil company, PDVSA.
In response, Venezuela expropriated the assets of both companies. Exxon Mobil took Venezuela to an arbitration court, and got a disappointing outcome. In 2014, seven years after the dispute began, the World Bank's international arbitration court found in the company's favor, but awarded only about one-tenth of what Exxon Mobil said the assets were worth.
The company has not operated in Venezuela since.
"In my opinion, he took it very personal with Chávez," said Ghassan Dagher, a Venezuelan oil industry consultant, adding that Tillerson "fell into the trap completely."
It was a lesson that may have helped inform Tillerson's dealings with President Vladimir Putin of Russia, he said.
"Once Exxon finished with Chavez's story, they said, 'We're not going to make the same mistake.' That's why they became so close to Putin."
Tillerson has had success guiding his company through the rough-and-tumble politics of the Russian oil business.
Exxon Mobil executives said Tillerson was not available for an interview. But they argued that he and Putin are not friends, countering criticism in the United States that Tillerson is too close to Russia to take a strong stance against it. Putin awarded Tillerson a medal of friendship for concluding corporate deals in Russia.
Not long after, the United States imposed sanctions on Russia's oil industry in 2014 over Moscow's deadly intervention in Ukraine, leading U.S. foreign policy and the company's investment goals to diverge. Exxon Mobil now has billions of dollars in deals that will move forward only if the sanctions are lifted.
Some officials and executives argue that Tillerson's business-minded approach to Russia could ease tensions, a view questioned by many diplomats, rights groups and advocates of disarmament.
Yuri Ushakov, a foreign policy adviser to Putin, praised Tillerson, saying Russia was ready to find a way out of the "ridiculous condition" between the two great powers. "We want out of this crisis situation," he said.
In West Africa, Exxon Mobil has made lucrative deals with the government of Equatorial Guinea, which arbitrarily detains and tortures critics, disregards elections, and has faced international prosecution for using oil profits to enrich the president's family.
Tutu Alicante, the director of the watchdog organization EG Justice, said that by doing business in Equatorial Guinea, Exxon Mobil was complicit in reinforcing President Teodoro Obiang Nguema Mbasogo — a strongman who has held office since 1979.
"Exxon definitely has enabled a government that once upon a time was very repressive but didn't have the resources to keep itself in power," Alicante said.
As for the selection of Tillerson as secretary of state, he added: "For just about anyone who cares about transparency in extractive industry, this is a devastating pick."
Obiang and his family have faced investigations in the United States and elsewhere for looting hundreds of millions of dollars from Equatorial Guinea's treasury to buy real estate in Malibu and Paris, as well as life-size statues of Michael Jackson.
The president's son is under investigation for money laundering in France and Switzerland, where the authorities seized 11 luxury cars including a Bugatti Veyron valued at about $2 million.
Most of the population of Equatorial Guinea lives on less than a dollar a day.
Documentation of questionable practices in the country began before Tillerson ascended to the chief executive position.
In 2004, a U.S. Senate subcommittee identified a bank in Washington where Exxon Mobil and other oil companies deposited hundreds of millions of dollars owed to Equatorial Guinea for operating there. The cash went to the president's family, the subcommittee's report found.
"The government literally used the oil wealth of the country as a personal ATM," said Arvind Ganesan, a director at Human Rights Watch.
The same kind of behavior continues, he argued.
But Alan Jeffers, an Exxon Mobil spokesman, said that when dealing with countries that have records of corruption, the company was careful to follow the Foreign Corrupt Practices Act, a U.S. law that prohibits bribes to foreign officials to do business.
"We're a company that follows the laws," Jeffers said. "Absent a law prohibiting something, we evaluate it on a business case basis."
The company has been both complimented and criticized in Nigeria, Africa's biggest oil producer.
When Exxon, the precursor of Exxon Mobil, acquired Mobil's operations in Nigeria in the late 1990s, it was given credit for righting misdeeds, including bribery and negligence, said Matthew Page, a consultant who until recently was the State Department's top expert on Nigeria.
"They came in with a much more rigid, by-the-book management culture and totally cleaned up Mobil's operations there," he said.
More recently, under Tillerson's tenure, Exxon Mobil's offshore facilities have been attacked by militants in the Niger Delta who contend that the nation's oil wealth overwhelmingly benefits a small circle of Nigerian elites, yet causes broad environmental damage like oil spills.
The company says it takes environmental protections seriously, including in places that have weak regulations or enforcement.
"We'll impose environmental standards on our own operations that may not necessarily be required by law," Jeffers said. "It's a good practice as a responsible operator."
Page said that Tillerson's experience in negotiating deals around the world would help him in the role of America's top diplomat.
"Exxon has this reputation as being take-no-prisoners in terms of its negotiations in other countries, and Tillerson was the big hitter," he said. "He would fly around the world negotiating these deals with foreign heads of state. From that viewpoint he's a natural for secretary of state."
But under Tillerson, Exxon Mobil has also been criticized for a lack of transparency in dealings with the Nigerian government. The country's Economic and Financial Crimes Commission is investigating a 2009 license renewal deal for Exxon Mobil, after allegations that the company was significantly outbid by a Chinese competitor. Critics contend that the deal was done illegally.
"They were running a very corrupt and opaque renewal process," Olanrewaju Suraju, the chairman of the Civil Society Network Against Corruption in Nigeria, said of the Nigerian government in power at the time.
Some analysts said that Exxon Mobil had a singular goal overseas.
"The one clear trend that runs through Exxon's foreign policy is that they are really all about business and doing what is best for shareholders," said Ben Van Heuvelen, the managing editor of Iraq Oil Report. "They are willing to look the other way in the face of a whole host of problems."
But Robert M. Gates, who served as secretary of defense under Obama and George W. Bush, said he had recommended Tillerson to Trump. Gates said Tillerson would be more than capable as America's top diplomat: "I think Rex is a hard-eyed realist, and I think he will absolutely put America's interests first in any negotiation."
To Learn More:
Exxon, Whose CEO is Trump's Secretary of State Pick, Has Billion-Dollar Deals Dependent on Lifting of U.S. Sanctions against Russia (by Andrew E. Kramer and Clifford Krauss, New York Times)
Investigations Grow into Alleged Exxon Mobil Climate-Change Deception (by Jake Pearson, Associated Press)
Obama Administration and EU Threaten Shutdown of ExxonMobil's Drilling in Russian Arctic (by Noel Brinkerhoff, AllGov)
Sanctions against Russia? Don't Tell ExxonMobil (by Noel Brinkerhoff, AllGov)
Exxon CEO Joins Lawsuit to Block Water Tower Used for Fracking near His Home (by Danny Biederman and Noel Brinkerhoff, AllGov)