Investigations Grow into Alleged Exxon Mobil Climate-Change Deception
Wednesday, March 30, 2016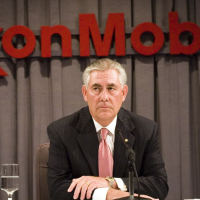 Exxon Mobil CEO Rex Tillerson (photo: Getty Images)
By Jake Pearson, Associated Press
NEW YORK (AP) — Attorneys general in the U.S. Virgin Islands and Massachusetts are investigating whether Exxon Mobil deceived the public or shareholders about the effects of climate change, joining similar inquiries into the oil giant launched by New York and California.
The investigations announced Tuesday came as nearly two dozen state attorneys general said at a New York news conference that they'd formed a coalition to explore legal ways to combat global warming by filing lawsuits and briefs or by opening environmental, consumer or financial probes.
Former Vice President Al Gore, who joined the attorneys general, likened the approach to how states took on the tobacco industry decades ago.
"We have heard the scientists, we know what's happening to the planet, there is no dispute," said Eric Schneiderman, New York's attorney general. "But there is confusion, confusion sowed by those with an interest in profiting from the confusion and creating misperceptions in the eyes of the American public that really needs to be cleared up."
The state investigations followed news reports by InsideClimate News and others that internal Exxon documents from the late 1970s showed an awareness that global warming might threaten the company's existence. The reports also disclosed that company scientists found burning fossil fuels would warm the planet resulting in harmful consequences.
In a statement, Suzanne McCarron, Exxon's vice president for public and government affairs, called such allegations politically motivated and baseless.
"The allegations are based on the false premise that ExxonMobil reached definitive conclusions about anthropogenic climate change before the world's experts and before the science itself had matured, and then withheld it from the broader scientific community," she said. "Such a claim is preposterous."
U.S. Virgin Islands Attorney General Claude Earl Walker said he wanted to know what, and when, a large energy company knew about climate change. His office confirmed Exxon was the target of that investigation.
"We will not stop until we get to the bottom of this and make it clear, to our residents as well as the American people, that we have to do something transformational," he said. "We cannot continue to rely on fossil fuel."
Companies that "deceived investors and consumers about the dangers of climate change should be held accountable," said Massachusetts Attorney General Maura Healey.
To Learn More:
ExxonMobil Accused of Deceiving Public on Climate Change Risks to Protect Profits (by Steve Straehley, AllGov)