Exxon CEO Joins Lawsuit to Block Water Tower Used for Fracking near His Home
Wednesday, February 26, 2014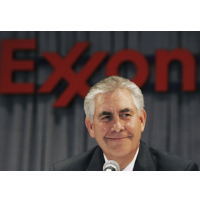 Exxon CEO Rex Tillerson (photo: LM Otero, AP)
When is hydraulic fracturing (or fracking) not favored by the top executive of Exxon Mobil, the nation's biggest producer of natural gas?
When it's near his luxury home.
Exxon chairman and CEO Rex Tillerson has joined a lawsuit (pdf) brought by other millionaires living in a tony Dallas suburb who object to the construction of a water tower needed for nearby fracking operations.
Tillerson also showed up at a Bartonville Town Council meeting in November to protest the building of the 160-foot tower.
His lawyer, Michael Whitten, told The Wall Street Journal that Tillerson's primary concern is the tower will bring down the value of his $5 million horse ranch, located near his 18-acre homestead. The ranch, according to the lawsuit, is made up of "homes, barns, and a state of the art horse training facility."
The other plaintiffs, including former House Majority Leader Dick Armey (R-Texas), claim the tower—which they describe as a "monstrosity" equivalent in size to a 16-story building—will block the views from their million-dollar estates and cause "noise nuisance and traffic hazards" due to trucks coming and going to move water for the fracking.
"The construction of the water tower will create a constant and unbearable nuisance to those that live next to it," states the complaint. "[The] water tower will have lights on at all hours of the night; traffic to and from the tower at unknown and unreasonable hours, noise from mechanical and electrical equipment needed to maintain and operate the water tower, and creates an unsafe and unattractive nuisance to the children in the area."
"Furthermore," the complaint continues, "water towers can create an attractive nesting spot for invasive species of bird and other animals. These animals will befoul plaintiffs' properties if the water tower is left to stand. Further… [the defendant] will sell water to oil and gas explorers for frac[k]ing shale formations leading to traffic with heavy trucks…creating a noise nuisance and traffic hazards."
Concerned about a resulting loss in their property values, Armey described his home as a "78-acre homestead" worth more than $2 million, while the nine other plaintiffs claimed each of their homes' value at $1 million to $1.9 million.
Their lawsuit seeks $40 million in damages from the Bartonville Water Supply Corporation (now known as Cross Timbers Water Supply).
Tillerson, whose salary at Exxon is reported to be $40.3 million, promotes fracking and opposes its regulation as part of his job as CEO of the corporation. "This type of dysfunctional regulation is holding back the American economic recovery, growth, and global competitiveness," he told an audience of energy executives in 2012. "[Hydraulic fracturing] is an old technology just being applied, integrated with some new technologies," he told the Council on Foreign Relations. "So the risks are very manageable."
- Danny Biederman, Noel Brinkerhoff
To Learn More:
No Fracking in our 'Hood, Dick Armey & ExxonMobil CEO Say (by Dan McCue, Courthouse News Service)
Exxon CEO Joins Suit Citing Fracking Concerns (by Daniel Gilbert, Wall Street Journal)
Exxon CEO Comes Out Against Fracking Project Because It Will Affect His Property Values (by Rebecca Leber, Climate Progress)
Richard K. and Susan D. Armey, et al, v. Bartonville Water Supply Corporation (District Court of Denton, Texas) (pdf)
Obama Administration Sues Exxon for Polluting Pennsylvania Drinking Water with Toxic Fracking Waste (by Noel Brinkerhoff, AllGov)