Obama Administration and EU Threaten Shutdown of ExxonMobil's Drilling in Russian Arctic
Tuesday, September 16, 2014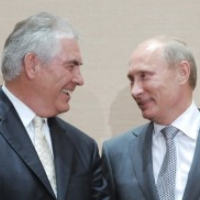 ExxonMobil CEO Rex Tillerson with Russian President Vladimir Putin (photo; Alexsey Druginyn, RIA Novosti)
ExxonMobil's plans to make money off Russia's untapped Arctic oil reserves could get shelved this month following the latest round of Ukraine-related sanctions.
The new economic response from the U.S. and the European Union to punish Russian aggression targeted American deals with five Russian energy companies, The Washington Post reported. Among those listed was Rosneft, the Russian oil giant partnering with ExxonMobil in the Kara Sea on an exploratory well. Under terms issued by the U.S. Department of Treasury, U.S. businesses have until September 26 to shut down their dealings with Rosneft, Gazprom, Gazprom Neft, Lukoil and Surgutneftegas.
An ExxonMobil spokesman told the newspaper that executives were reviewing the latest sanctions, but the company complies "with all laws."
The Obama administration left open the possibility that the sanctions could be halted if Moscow sticks with the current cease-fire agreement and pulls its troops from Ukraine.
But even if they are imposed, at least one oil analyst dismissed their importance on the Kara Sea project. Fadel Gheit at Oppenheimer & Co. told the Post that the sanctions' "bark is worse than its bite," considering commercial oil production out of the Arctic is a decade away.
ExxonMobil previously said that its understanding was that sanctions apply only to new projects, not existing undertakings such as its oil and gas production on Sakhalin Island in eastern Russia. However, it's unclear if that's the case.
-Noel Brinkerhoff
To Learn More:
U.S., E.U. Toughen Russian Sanctions to Pressure Putin (by Katie Zezima and Steven Mufson, Washington Post)
New Sanctions Against Russia Could Deal Big Blow To ExxonMobil (by Ryan Koronowski, Think Progress)
Russia's Militarization of the North Pole Has U.S. Lawmakers on Edge (by Marina Koren, Government Executive)
Sanctions against Russia? Don't Tell ExxonMobil (by Noel Brinkerhoff, AllGov)