Federal Agencies Increasingly Use College Loan Payoff Assistance as Means of Attracting and Keeping Employees
Thursday, October 22, 2015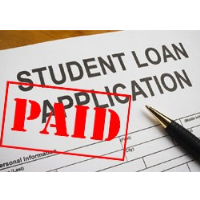 (photo: Kirby Hamilton, Getty Images)
The federal government has had trouble recruiting and keeping the best and the brightest workers in the U.S. labor market. One approach has been to help pay off employees' college loans.
Last year, 33 departments and independent agencies paid nearly 8,500 workers more than $58.7 million in student loan repayment benefits, according to a report from the Office of Personnel Management (OPM). That came out to an average of just more than $6,900 per employee.
Eighty percent of the money was paid by the Justice, Defense, State and Veterans Affairs departments, along with the Securities and Exchange Commission.
Fifteen percent more workers received this assistance in 2014 than in 2013, while the amount paid out last year was 11% more than the previous year. "Before 2014, the payments had been dropping each year since peaking in 2010 when $85.7 million was paid out to nearly 11,400 employees, averaging nearly $7,100," The Washington Post reported.
The incentives are useful in high-demand fields such as cybersecurity and STEM (Science, Technology, Engineering and Math) fields. "Closing the skills gap in the STEM workforce is a key component in our efforts to deliver on the core mission of OPM: to recruit and retain a world-class workforce to serve the American people," the report said. "Employees in STEM career fields are vital to the federal government's mission, and OPM is committed to continue working with agencies to help them attract and retain talented professionals using student loan repayments and other human resources management flexibilities."
Employees can receive a maximum of $10,000 a year and $60,000 in lifetime assistance. In return for the help, employees must commit to working for the government for three more years.
-Noel Brinkerhoff, Steve Straehley
To Learn More:
More Federal Employees Getting Help from Uncle Sam to Pay off College Debt (by Eric Yoder, Washington Post)
Federal Student Loan Repayment Program Calendar Year 2014 (U.S. Office of Personnel Management) (pdf)
700,000 U.S. Seniors Owe $18 Billion in Student Debt; Fed Taps Retirees' Social Security Checks (by Noel Brinkerhoff, AllGov)
Tens of Thousands of Federal Employees in 13 Cities to Receive Pay Raises Next Year (by Noel Brinkerhoff and Steve Straehley, AllGov)
Education Dept. Reaps Profits from Student Debt (by Noel Brinkerhoff, AllGov)