700,000 U.S. Seniors Owe $18 Billion in Student Debt; Fed Taps Retirees' Social Security Checks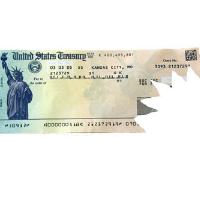 (photo illustration: Steve Straehley, AllGov)
Hundreds of thousands of seniors are having their already-small Social Security checks reduced because they owe money on student loans.
Among the 41 million people making student loan payments, there are 706,000 households headed by someone 65 or older still paying off student debts. Those senior debtors collectively owed a whopping $18.2 billion in 2013.
Ninety-one thousand seniors with student loan balances are in default, putting their Social Security payments at risk of being garnished. The government can garnish up to 15% of a Social Security check to repay a student loan, as long as the check amount does not drop below $750 a month. The federal government sucked a total of $150 million out of seniors' checks in 2013 to satisfy student loan debt, according to the Government Accountability Office, which also made it clear that 82% of senior still owe money for their own student loans rather than those of their children or other dependents.
Social Security checks used to be entirely protected from any kind of garnishment. But that changed in 1996, when Congress carved out an exception for student loan debt.
Senator Claire McCaskill (D-Missouri) would like that practice reviewed. "Social Security is the sole means of retirement income for tens of millions of Americans, and allowing those benefits to be garnished to collect student loan debt cuts a dangerous hole in our safety net," she said.
-Noel Brinkerhoff
To Learn More:
Haunted by Student Debt to the Grave (by Mary Green Swig, Roger Hickey and Steven Swig, Campaign for America's Future)
When Your Social Security Check Disappears Because of an Old Student Loan (by Jillian Berman, MarketWatch)
Older Americans: Inability to Repay Student Loans May Affect Financial Security of a Small Percentage of Retirees (Statement of Charles Jeszeck, Government Accountability Office) (pdf)
U.S. Education Department's Student Debt Collector Accused of Ruthless Tactics (by Noel Brinkerhoff, AllGov)
Education Dept. Reaps Profits from Student Debt (by Noel Brinkerhoff, AllGov)