U.S. Removes Thailand from Human Trafficking Blacklist in Spite of Widespread Forced Labor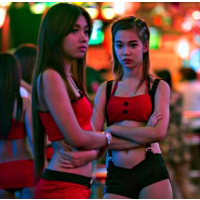 Young girls doing sex work in Thailand (photo: Paula Bronstein, Getty Images)
By Matthew Pennington, Associated Press
WASHINGTON (AP) — The United States removed Thailand from its human trafficking blacklist on Thursday, though forced labor remains widespread in the nation's lucrative seafood industry.
The State Department made the assessment in its annual Trafficking in Persons Report, which examines 188 governments' efforts in combating modern-day slavery.
Key U.S. trading partner Malaysia was taken off the blacklist controversially in 2015, soon after the discovery of mass graves of suspected trafficking victims. Malaysia retained its ranking, though it has initiated fewer trafficking investigations and prosecutions in the period covered by this year's report.
The report was released by Secretary of State John Kerry, who called it an attempt to bring public attention to the full nature and scope of the $150 billion human trafficking industry that has snared some 20 million people. He said the conclusions were based on facts and did not take into account political or other factors.
"There were some tough calls. In the end, they come down to an element of discretion, but not much, because we have a fixed set of rules that Congress has created, and we follow those rules," he said.
The promotion for military-led Thailand could ease tensions with the U.S., its longtime ally. The Thai government reported an increase in prosecutions and convictions for trafficking and had lobbied hard for an upgrade after two years on "tier 3" — the lowest ranking in report, which it had shared with the likes of North Korea and Syria. It is now on the "tier 2 watch list," which is for governments that do not fully meet the minimum standards of combating trafficking but are making significant efforts to do so.
Labor abuses in the Thai seafood industry gained in prominence around the globe after a two-year investigation by The Associated Press that led to the freeing of more than 2,000 slaves and the arrest of more than a dozen alleged traffickers. Several have been convicted.
Neighboring Myanmar, which recently shifted to a popularly elected civilian government after decades of military domination, was demoted to tier 3. It had faced a mandatory move up or down the rankings after four years on the watch list. The department said forced labor persists and that military and children are still being recruited into the armed forces. Myanmar's denial of legal status to minority Rohingya Muslims also increased their vulnerability to trafficking, it said.
Rohingya have been targets of communal violence, and tens of thousands have fled the country.
Myanmar's Foreign Ministry said the downgrade was regrettable and called on the U.S. not to impose restrictions that would hamper U.S.-Myanmar cooperation. President Barack Obama now has 90 days to determine whether to apply sanctions on tier 3 nations. But the U.S. often chooses not to, based on its national security interests, as it did last year for Thailand.
Uzbekistan was put on tier 3 because of state-led forced labor in the cotton harvest. Djibouti, Haiti, Papua New Guinea, Sudan, Suriname and Turkmenistan were also demoted to the blacklist, while Kuwait was taken off. There are now 27 nations on tier 3.
The advocacy group Alliance to End Slavery and Trafficking welcomed the downgrades for Uzbekistan and Myanmar. Human Rights Watch echoed that, and said that the report generally reflected the record of countries around the world, but that the rankings of Thailand and Malaysia were "problematic."
Thailand has been under immense international pressure to clean up its $7 billion annual seafood export industry. AP's reporting followed slave-caught seafood from fishing boats, to the Southeast Asian nation and on to American dinner tables. This month, the European Union warned Thailand to take "swift and determined action" to improve its fisheries and labor practices or face a possible EU ban on Thai seafood by year's end.
The Thai Embassy in Washington said the report "recognizes the progress and significant efforts made by Thailand in the fight against human trafficking."
The State Department credited Thailand for undertaking legal reforms; for convicting 241 traffickers during 2015, compared with 104 in 2014; and for filing criminal charges against 34 officials in 2015, up from seven in 2014.
But the department said reports persist that some government officials are directly complicit in trafficking, and migrant workers, especially those who are undocumented, are fearful of reporting trafficking crimes and cooperating with authorities.
Republican Rep. Chris Smith of New Jersey, author of the legislation that mandates the trafficking rankings, said the Obama administration has failed to correct last year's "egregious" upgrade for Malaysia, which he linked to its participation in the U.S.-backed Trans-Pacific Partnership trade agreement. He also accused the administration of turning a blind eye to abuses in Cuba, which was removed last year from tier 3 after diplomatic normalization with Washington.
Democratic Sen. Robert Menendez of New Jersey said Malaysia had failed to prosecute anyone in connection with the discovery of the mass graves at the Malaysia-Thai border in May 2015. He said he would introduce legislation to reform the tier ranking process.
To Learn More:
2016 Trafficking in Persons Report (U.S. Department of State)
24% Increase in Calls to U.S. Human Trafficking Hotline (by Ellen Wulfhorst, Thomson Reuters Foundation)
In First of its Kind Case, Victim Goes after Financial Damages for Rape and Sex Trafficking (by Noel Brinkerhoff and Danny Biederman, AllGov)
U.S. Maneuver on Malaysia Human Rights Rating and Big Pharma Terms among Concerns in TPP Trade Talks (by Noel Brinkerhoff and Steve Straehley, AllGov)
State Dept. Trafficking Report Shows Bad Shift: Janice Shaw Crouse (by Noel Brinkerhoff, AllGov)