24% Increase in Calls to U.S. Human Trafficking Hotline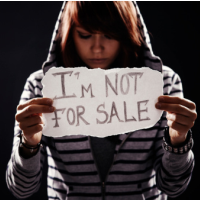 (photo: Getty Images)
By Ellen Wulfhorst
NEW YORK (Thomson Reuters Foundation) - The number of calls reporting human trafficking cases to a U.S. national hotline rose last year, as did calls from trafficking survivors, showing that public awareness of the issue is growing, organizers said on Thursday.
Some 1,600 survivors contacted the hotline in 2015, a 24 percent jump from a year earlier, said the Polaris Project, which operates the National Human Trafficking Resource Center Hotline and a BeFree Textline.
"The more people that are calling out to us means the more people who are getting help," said Brandon Bouchard, a spokesman for the Washington-based Polaris.
An estimated 36 million people are enslaved around the world, including in the United States, according to the Global Slavery Index published by the Australia-based Walk Free Foundation.
The U.S. government has estimated as many as 17,500 people are subject to sex and labor trafficking each year and as many as 300,000 children are at risk for sexual exploitation.
Overall last year, nearly 6,000 trafficking cases were reported via the hotline, textline and other means, Polaris said, marking a 10 percent increase over 2014.
"Every year that we've operated the hotline since 2007, the number of cases we've handled has increased," Bouchard said. "We largely believe it's greater awareness about human trafficking in general and the hotline in general."
A recent academic report funded by the National Institute of Justice found that posting the hotline number in public places was "the most important provision for increasing the number of human trafficking arrests."
Three-quarters of the cases reported last year entailed sex trafficking and slightly more than 10 percent were labor trafficking, Polaris said.
There tends to be less public awareness in the United States of labor trafficking, such as cases involving child laborers or domestic workers, than of sex trafficking, Bouchard said.
To Learn More:
U.S. Health Agency Accused of Releasing Lone Migrant Children to Traffickers (by Tim Ryan, Courthouse News Service)
In First of its Kind Case, Victim Goes after Financial Damages for Rape and Sex Trafficking (by Noel Brinkerhoff and Danny Biederman, AllGov)
Sex-Trafficking Gangs Using "Grotesque Version of a Legitimate Business Model" Busted by Feds (by Ken Broder, AllGov California)
The Anti-Trafficking Law that Backfired into the Current Flood of Child Immigrants (by Noel Brinkerhoff, AllGov)
Judge Blocks Human Trafficking Proposition (by Ken Broder, AllGov California)