Overview
<div> With more than 700 indigenous languages, Papua New Guinea is the most linguistically diverse nation in the world.&nbsp;All those different languages, and the different tribal groups they come from, provide fascinating variety in traditional dress and adornment from the Asaro Valley Mudmen to the Wigmen of the Tari Basin and many, many more.&nbsp;But they also make unity a problem.&nbsp;Blessed with abundant natural resources, Papua New Guinea nevertheless wallows in Third World misery.&nbsp;Rampant corruption and crime continue despite the frequent electoral defeat of incumbents.</div> <div> &nbsp;</div>
more
less
Basic Information
<p> <b>Lay of the Land</b>:&nbsp;Papua New Guinea is located north of Australia and east of Indonesia.&nbsp;It consists of the eastern half of the island of New Guinea, second largest in the world, plus the large offshore islands of New Britain, New Ireland, and many smaller ones.&nbsp;The terrain is varied and includes coastal swamps, large river valleys, highland plateaus and rugged mountain ranges.</p> <div> &nbsp;</div> <div> <b>Population</b>: 5,932,000 (2008 est)</div> <div> &nbsp;</div> <div> <b>Religions</b>: Indigenous religions 34%, Roman Catholic 22%, Lutheran 16%, Prebsbyterian/Methodist/London Missionary Society 8%, Anglican 5%, Evangelical Alliance 4%, Seventh Day Adventist 1%, other Protestant 10%</div> <div> &nbsp;</div> <div> <b>Ethnic Groups</b>: Papuan, Melanesian, Negrito, Micronesian, Polynesian.</div> <div> &nbsp;</div> <div> <b>Languages</b>: Melanesian Pidgin, a Creole language based on English, is used as a common tongue.&nbsp;English is spoken by about 2% of the population.&nbsp;Motu is also spoken.&nbsp;At last count, there were 832 identified indigenous languages, representing more than 10% of the world&rsquo;s total of languages.</div> <div> &nbsp;</div> <div> &nbsp;</div>
more
less
History
<div> Papua New Guinea was settled some 40,000 years ago by short, dark-skinned hunter-gatherers known as Australoids, the ancestors of today&rsquo;s Papuans.&nbsp;About 5,000 years ago agriculture-based Austronesians arrived.&nbsp;They tended to settle in the coastal areas and push the Papuans into the highlands.&nbsp;There was, however, much mixing between the groups.&nbsp;Melanesians were the result of that mixing.&nbsp;European explorers visited New Guinea beginning in the 1500s, but never established any permanent presence.&nbsp;New Guinea&rsquo;s tropical diseases, including malaria, and fierce, sometimes cannibalistic, tribes kept Europeans at bay.&nbsp;There was one disastrous French attempt to colonize New Ireland in the 1870s and 1880s.&nbsp;Most of the settlers died of diseases or were killed by local tribes.&nbsp;Many beachcombers and traders simply disappeared in the area over the years.&nbsp;Eventually Papua New Guinea became the focus of European colonial rivalries.&nbsp;Germany managed to claim the northeast quarter of New Guinea Island and some offshore islands.&nbsp;They established some plantations, but were not very successful.&nbsp;In order to thwart any further German advance, the British seized the southeast quarter of the island and established their own colony.&nbsp;(The western half of New Guinea, along with the rest of what is now Indonesia, was already firmly in the hands of the Netherlands.)&nbsp;Australia, acting as Britain&rsquo;s proxy, seized the German part of New Guinea during World War I.&nbsp;</div> <div> &nbsp;</div> <div> After the war, the former German portion became a League of Nations mandated territory administered by Australia, which by now was also administering the former British colony in the southeast of New Guinea.&nbsp;In the 1920s and 1930s, explorers began to penetrate the rugged interior highlands of New Guinea, thought to be mostly uninhabited.&nbsp;To their surprise, they found hundreds of villages and thousands of people, each with their own colorful traditional dress and face and body decorations.&nbsp;During World War II there was vicious fighting on New Guinea, as Australian and American troops stopped a Japanese advance over the rugged Owen Stanley mountain range towards the capital of Port Moresby.&nbsp;Earlier, in the carrier battle of the Coral Sea, American naval forces had turned back a Japanese fleet intent on landing troops near Port Moresby.&nbsp;After the war, northeast New Guinea became a United Nations trust territory administered by Australia, which more and more began to combine its administration with the colony in the southeast of the island.&nbsp;By 1975 the parts were combined and granted independence as Papua New Guinea.</div> <div> &nbsp;&nbsp;&nbsp;&nbsp;&nbsp;&nbsp;&nbsp;&nbsp;&nbsp;&nbsp;&nbsp;</div> <div> Things have not been easy for Papua New Guinea since independence.&nbsp;Although blessed with abundant resources, the economy has struggled and is still dependent on massive aid from Australia.&nbsp;Government corruption has been difficult to control and is the main issue in almost every election.&nbsp;Although incumbents are often defeated, the new leaders tend to be just as corrupt and are in turn thrown out at the next election.&nbsp;Papua New Guinea also suffered from a violent secessionist rebellion on copper-rich Bougainville Island.&nbsp;The fighting closed the mine, a huge loss of income for the government and economy, and killed almost 20,000 people.&nbsp;Peace was achieved in 1997.&nbsp;There is also a problem with the land border with Indonesia, which controls the western half of New Guinea.&nbsp;There is a rebellion seeking independence there, and many refugees have fled across the border to Papua New Guinea.&nbsp;Indonesian troops sometimes chase them.&nbsp;Another major problem is crime.&nbsp;Port Moresby is considered the most dangerous city in the Pacific.</div> <p> &nbsp;</p>
more
less
Papua New Guinea's Newspapers
<p> <a href="http://www.thenational.com.pg/">The National </a></p> <div> <a href="http://www.postcourier.com.pg/">The Post Courier </a></div>
more
less
Current U.S. Relations with Papua New Guinea
<p> The United States maintains an embassy in Port Moresby.&nbsp;Relations between the United States and Papua New Guinea are good.&nbsp;There is a fishing treaty that has been in effect for several years providing money to the PNG government.&nbsp;The United States also has many aid programs, including helping rebuild Bougainville and fight HIV/AIDS.</p> <div> &nbsp;</div>
more
less
Where Does the Money Flow
<p> In 2007 the United States imported $108,516,000 worth of goods from Papua New Guinea. Green coffee, cocoa beans and fish accounted for 90% of U.S. imports from Papua.&nbsp;That same year the United States exported to Papua New Guinea goods worth $65,889,000.&nbsp;The primary categories included aircraft parts, drilling equipment and industrial engines.&nbsp;U.S. aid to Papua New Guinea for 2008 included $280,000 for military training to enhance border control and maritime security and $2,080,000 to help fight a growing HIV/AIDS epidemic.&nbsp;</p> <div> &nbsp;</div> <div> <a href="http://www.census.gov/foreign-trade/statistics/product/enduse/imports/c6040.html">U.S. Imports from Papua New Guinea</a></div> <div> <a href="http://www.census.gov/foreign-trade/statistics/product/enduse/exports/c6040.html">U.S. Exports to Papua New Guinea</a></div> <div> <a href="http://www.state.gov/documents/organization/101368.pdf">U.S. Foreign Operations (pages 391-392)</a> (PDF)</div> <div> <a href="http://www.state.gov/t/pm/64899.htm">U.S. Security Assistance</a></div>
more
less
Human Rights
<p> Human rights problems in the country, which include arbitrary or unlawful killings by police; police abuse of detainees, including children; poor prison conditions; lengthy pretrial detention; infringement of citizens&#39; privacy rights; government corruption; violence and discrimination against women and children; discrimination against persons with disabilities; and intertribal violence.</p> <div> <b>&nbsp;</b></div> <div> <a href="http://www.state.gov/g/drl/rls/hrrpt/2007/100534.htm">State Department Report on Human Rights Practices</a></div> <div> <a href="http://hrw.org/doc/?t=asia&amp;c=png">Human Rights Watch</a></div> <div> <a href="http://www.amnesty.org/en/region/asia-and-pacific/south-east-asia/papua-new-guinea">Amnesty International</a></div>
more
less
Past Ambassadors
<p> &nbsp;Robert W. Fitts 9/11/03-10/2/06 (also accredited to Solomon Islands and Vanuatu)</p> <div> Susan S. Jacobs 11/7/00-8/1/03 (also accredited to Solomon Islands and Vanuatu)</div> <div> Arma Jane Karaer 4/15/97-5/28/00 (also accredited to Solomon Islands and Vanuatu)</div> <div> Richard W. Teare 11/23/93-7/14/96 (also accredited to Solomon Islands and Vanuatu)</div> <div> Robert William Farrand 5/1/90-9/13/93 (also accredited to Solomon Islands and Vanuatu)</div> <div> Everett E. Bierman 11/11/86-10/30/89 (also accredited to Solomon Islands and Vanuatu)</div> <div> Paul Fisher Gardner 9/7/84-10/1/86 (also accredited to Solomon Islands)</div> <div> M.Virginia Schafer 11/3/81-5/20/84 (also accredited to Solomon Islands)</div> <div> Harvey J. Feldman 9/26/79-5/25/81 (also accredited to Solomon Islands)</div> <div> Mary S. Olmsted 1/5/76-7/28/79 (also accredited to Solomon Islands)</div>
more
less
Papua New Guinea's Ambassador to the U.S.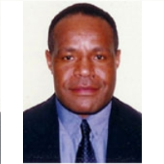 Paki, Evan Jeremy
The current Papua New Guinea ambassador to the United States, since September 8, 2003, is Evan Jeremy Paki, who also serves as ambassador to Mexico and High Commissioner to Canada. Paki earned a law degree from Papua New Guinea Law School and a Masters in Law from the Harvard Law School, where he was a Fulbright scholar. He also attended the John F. Kennedy School of Government at Harvard and the International Law Institute in Washington, D.C. Paki worked briefly at the Multicultural Investment and Guarantee Agency in Washington, D.C., and then became a banking and finance lawyer for the Sydney, Australia office of the Baker & McKenzie law firm. In 1999 Paki took leave from Baker & McKenzie to work with U.S. investors interested in various Papua New Guinea mining and oil projects. While back in Papua New Guinea, he served as an advisor with the Mining and Petroleum Division of the Internal Revenue Commission and practiced law. From 2001 to 2003 Paki was external advisor to the Office of the Prime Minister of Papua New Guinea.
more
less
Papua New Guinea's Embassy Web Site in the U.S.
<div> <a href="http://portmoresby.usembassy.gov/">Papua New Guinea&rsquo;s Embassy in the U.S.</a></div> <div> <b>&nbsp;</b></div>
more
less