U.S. Maneuver on Malaysia Human Rights Rating and Big Pharma Terms among Concerns in TPP Trade Talks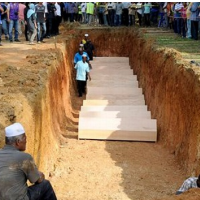 Mass burial of human trafficking victims in Malaysia (AP photo)
The United States and 11 other governments are pushing to finish negotiations on the Trans-Pacific Partnership (TPP) trade agreement, though there are still several controversial issues to be decided.
For starters, there's Malaysia.
The Malaysian government wants in on the TPP, but that couldn't happen unless the U.S. upgraded its rating on the country's human rights record. So the State Department under President Barack Obama, who really wants the TPP to happen before he leaves office, changed Malaysia's ranking as a human trafficking violator from Tier 3 to Tier 2.
The change angered activists and human rights organizations who say Malaysian officials have done little to stop sex slavery and forced labor, particularly in the electronics industry. Mass graves holding more than 130 human trafficking victims were discovered in April near the Malaysian-Thailand border. And yet, only three months later, Malaysia's human rights record has substantially improved, according to the State Department.
"The Administration has turned its back on the victims of trafficking," Senator Robert Menendez (D-New Jersey) said in a written statement. "They have elevated politics over the most basic principles of human rights."
TPP talks also have stirred concerns over pharmaceuticals, with the Obama administration attempting to maintain patent protection for 12 years for U.S. drug companies. Drug companies say they need that long to recoup their investment in research and development before a generic version is allowed on the market.
Australia is adamantly sticking with a maximum of five years' protection. Since that country's health service pays for its citizens' medications, it wants to see prices drop as quickly as possible. Developing nations also want lower drug prices. According to The New York Times' Jonathan Weisman, the U.S. position may be softening and the final number could end up between five and seven years.
-Noel Brinkerhoff, Steve Straehley
To Learn More:
Issues Mount as Negotiators Gather to Wrap Up Trans-Pacific Trade Pact (by Jonathan Weisman, New York Times)
Obama Shrugs Off Global Slavery To Protect Trade Deal (by Zach Carter, Huffington Post)
U.S. Shifts Stance on Drug Pricing in Pacific Trade Pact Talks, Document Reveals (by Jonathan Weisman, New York Times)
Patent Protection for Drugs Puts Pressure on U.S. in Trade Talks (by Jonathan Weisman, New York Times)
TPP Critics Say U.S. Shift on Drug Pricing Revealed in Leaked Trade Document will Help Big Pharma at Consumers' Expense (by Noel Brinkerhoff, AllGov)