U.S. is One of Six Nations Named by Oxfam for Fueling Violence in Syria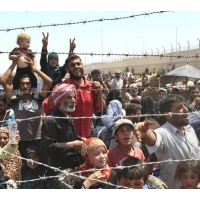 Syrian refugees at the Turkish border (photo: Lefteris Pitarakis, AP)
International aid group Oxfam criticized half a dozen countries, including the United States, for stoking the violent conflict in Syria and doing less than it could to help those displaced by it.
Oxfam singled out the U.S., Iran, Qatar, Russia, Saudi Arabia, and Turkey for "fueling violence and violations of war in Syria through arms and ammunition transfers to parties to the conflict."
Along with the United Kingdom and Kuwait, the U.S. also was criticized for its "less than generous" offers "to welcome the most vulnerable refugees." Oxfam claims the U.S. has resettled only 8% of its "fair share" of refugees. Since 2011, U.S. immigration authorities have admitted only 1,500 Syrian refugees into the country.
More than 1 million people have been wounded and 250,000 killed in Syria since the civil war began four years ago. It is estimated that half of the country's pre-crisis population has been displaced, with the vast majority of the 4 million Syrians registered as refugees in Jordan, Lebanon, Turkey, Iraq, and Egypt.
The international community must do more to aid those affected by the war, according to Oxfam. "The violence in Syria is intensifying, fueled by a divided international community and the transfer of arms and ammunition to warring parties," Andy Baker, head of Oxfam's Syria crisis response, in a statement accompanying its new report (pdf). "Faced with this grim situation, many Syrians are literally jumping in the water to seek a better future."
-Noel Brinkerhoff
To Learn More:
As Military Escalation Grips Syria, Oxfam Decries World Powers for Fueling War (by Sarah Lazare, Common Dreams)
International Aid to Syrians 'Utterly Inadequate' (by AFP/RW, Channel NewsAsia)
Solidarity with Syrians (Oxfam) (pdf)
U.S. Bombing in Syria Kills Dozens Imprisoned by ISIS for Violating Sharia Law (by Noel Brinkerhoff, AllGov)
U.S. Bombing in Syria Said to Drive More Anti-Assad Rebels to Join or Support ISIS (by Noel Brinkerhoff, AllGov)
Senators Authorizing Syria Attack Received 83% More Defense Money than Those Opposed (by Noel Brinkerhoff, AllGov)