Senators Authorizing Syria Attack Received 83% More Defense Money than Those Opposed
Monday, September 09, 2013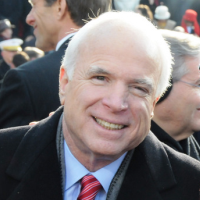 Sen. John McCain
More than one factor is in play while the United States decides whether to unleash a military strike on Syria for using chemical weapons last month. President Barack Obama appears determined to keep his word that the U.S. would take action if Syrian dictator Bashar al-Assad used such weapons in his country's civil war—but Obama also decided that he wants Congress' support before ordering any attack.
A U.S. Senate committee took the first step on Wednesday in giving the president what he wants by authorizing a limited military engagement. Following the committee vote, one independent analysis revealed one possible motivation for why lawmakers—from both political parties—would support the plan, even though polls show that Americans overwhelmingly oppose any U.S. action in Syria.
When the Senate Foreign Relations Committee took up the resolution giving the White House 60 days to attack (but not invade) Syria, 10 senators voted "yes." Another seven senators rejected the plan.
The 10 lawmakers supporting the resolution, though, received 83% more campaign contributions on average from defense contractors than the committee members who voted "no," according to MapLight, a Berkeley-based nonprofit that crunched the numbers for Wired. (The analysis is based on data from the years 2007 through 2012.)
The "ayes" averaged $72,850 in defense campaign financing, while the "no's" averaged $39,770, according to the data.
"Overall, political action committees and employees from defense and intelligence firms such as Lockheed Martin, Boeing, United Technologies, Honeywell International, and others ponied up $1,006,887 to the 17 members of the Senate Foreign Relations Committee who voted yes or no on the authorization Wednesday," Wired's David Kravets wrote.
The top three recipients who voted "yes" were Senators John McCain (R-Arizona) at $176,000; Dick Durbin (D-Illinois) at $127,350; and Timothy Kaine (D-Virginia) at $101,025.
The top three defense-campaign earners who voted "no" were Senators John Barrasso (R-Wyoming) at $86,500; Marco Rubio (R-Florida) at $62,790; and Chris Murphy (D-Connecticut) at $59,250.
-Noel Brinkerhoff
To Learn More:
Senators Authorizing Syria Strike Got More Defense Cash Than Lawmakers Voting No (by David Kravets, Wired)
Senators Voting Yes on Syria Resolution Received 83% More Money From Defense Industry (by Donny Shaw, MapLight)
Only 9% of Americans Favor Syria Intervention as Obama Considers Military Options (by Noel Brinkerhoff, AllGov)
Did Campaign Contributions Influence Representatives who Voted in Favor of NSA Phone Spying? (by Matt Bewig, AllGov)
Military Pays for Booze for Congressional Trips Abroad (by Noel Brinkerhoff, AllGov)