Obama's Disclosure of Civilian Death Tally from U.S. Drone Strikes "Far Removed from Reality," Say Critics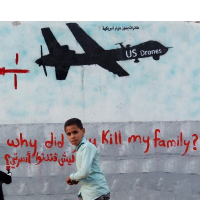 (photo: Mohammed Huwais, AFP/Getty Images)
By Deb Riechmann and Kathleen Hennessey, Associated Press
WASHINGTON (AP) — President Barack Obama is disclosing the number of civilians killed in U.S. military and CIA drone strikes in Pakistan, Yemen and Africa since he took office and will issue an executive order that makes protecting civilians a more integral part of planning U.S. military operations, according to activists and other individuals familiar with the report.
The White House is to disclose the casualties with a range of numbers indicating that an estimated 100 civilians have been inadvertently killed by 500 drone strikes since 2009. The estimate is said to cover drone strikes in Pakistan, Yemen, Libya and Somalia. It does not cover ones in Afghanistan, Iraq or Syria where U.S. forces have conducted thousands of air attacks.
The individuals spoke on condition of anonymity because they weren't authorized to disclose the information.
While sketchy details often emerge about individual drone strikes, the full scope of the U.S. drone program — a key tool of Obama's counterterrorism strategy — has long been shrouded from view. Still, the new information is not likely to answer all the questions that have been raised and human rights groups have long claimed that the administration undercounts civilian casualties,
The London-based Bureau of Investigative Journalism, for instance, has estimated that there were anywhere from 492 to about 1,100 civilians killed by drone strikes in Pakistan, Yemen and Somalia since 2002.
Federico Borello, executive director of Center for Civilians in Conflict in Washington, said Thursday that he applauds Obama's forthcoming executive order. He said he had not yet seen the final draft, but that his group probably would call on Congress to codify it into law so that future presidents cannot throw it out.
"This is something that we've been working on for 10 years," he said. To have civilian protections "in the heart of military planning is a big deal."
Reprieve, an international human rights organization based in New York, claims that the Obama administration's previous statements about the drone program have been proven to be false by facts on the ground and the U.S. government's own internal documents.
"But more importantly, it has to be asked what bare numbers will mean if they omit even basic details such as the names of those killed and the areas, even the countries, they live in," Reprieve said in a statement on Thursday.
"Equally, the numbers without the definitions to back up how the administration is defining its targets is useless, especially given reports the Obama administration has shifted the goalposts on what counts as a 'civilian' to such an extent that any estimate may be far removed from reality."
To Learn More:
Pentagon Admits to Civilian Deaths during Bombing against ISIS Last July (Reuters)
Civilian Casualty Guidelines for U.S. Drone Strikes Not Applied to Bombing in Syria and Iraq (by Noel Brinkerhoff and Steve Straehley, AllGov)
Civilian Afghan Deaths from U.S. Drone Strikes Continue to Build Hatred of U.S. (by Noel Brinkerhoff, AllGov)
Report Claims Drones more likely to Kill Civilians than Manned Aircraft (by Noel Brinkerhoff, AllGov)