Civilian Casualty Guidelines for U.S. Drone Strikes Not Applied to Bombing in Syria and Iraq
Wednesday, October 08, 2014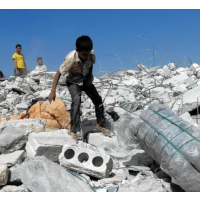 Syrian children look over rubble of home bombed by U.S.-led coalition (photo: Sami Ali, AFP/Getty Images)
President Barack Obama has decided that as much as he hates civilian casualties in warfare, special protections intended to avoid such fatalities will not apply to the air campaign in Syria and Iraq.
In a speech last year at National Defense University (NDU), Obama promised the U.S. military would take precautions while conducting drone strikes in places like Afghanistan and Yemen to keep civilians from being killed. But the White House says those rules will not be in effect while U.S. warplanes and missiles hit Islamic State targets.
"The specific standards at issue in the NDU speech apply only when we take direct action 'outside areas of active hostilities,' as was noted at the time," Caitlin Hayden, spokeswoman for the National Security Council, told CNN. "That description—outside areas of active hostilities—simply does not fit what we are seeing on the ground in Iraq and Syria right now."
Independent reports indicate civilians have been caught up in some of the attacks, resulting in multiple deaths. Human Rights Watch reported it heard from local residents that on September 23, missiles killed at least nine people, including five children in the village of Kafr Deryan, Syria.
The administration so far has not confirmed any claims by non-governmental organizations regarding civilian casualties. But it has admitted deaths and injuries could happen.
"We do take extreme caution and care in the conduct of these missions. But there's risk in any military operation," Rear Admiral John Kirby told the media recently. "There's a special kind of risk when you do air operations. We're cognizant of that and we're going to keep working at it."
One of those risks is that your allies might turn against you. Some of the U.S. airstrikes have hit Free Syrian Army (FSA) and al-Nusrah positions. This might have the effect of sending some of our sometime partners in fighting the Islamic State, such as al-Nusrah, into the arms of ISIS.
"Before there were terrorists fighting terrorists. Now, after the airstrikes, you could see them working together against a common enemy (the United States), which is not what we want to see at all," FSA spokesman Hussam Al Marie told The Daily Beast.
-Noel Brinkerhoff, Steve Straehley
To Learn More:
ISIS Fight: Coalition Airstrike Casualties Weigh on Canada's Decision (CBC News)
White House Exempts ISIS Strikes from Civilian Casualty Guidelines (by Jim Acosta and Kevin Liptak, CNN)
Iraq News Reports say 18 Civilians Killed in Strike Aimed at Militants (by Nabih Bulos and Patrick J. McDonnell, Los Angeles Times)
Activists Cite Civilian Casualties as Airstrikes Heat Up (by John Bacon, USA Today)
U.S-led Raids Hit Grain Silos in Syria, Kill Workers: Monitor (by Sylvia Westall and Andrew Heavens, Reuters)
Exclusive: America's Allies Almost Bombed in Syrian Airstrikes (by Josh Rogin, Daily Beast)
President Obama: It Is a Moral and Strategic Mistake to Exempt Syrian Airstrikes from Civilian Protections (by Rev. Dr. Susan Brooks Thistlethwaite, Huffington Post)
U.S. Strategy against ISIS in Syria Relies on Backing "Moderate Rebels"... Who May Not Exist (by Steve Straehley, AllGov)