Civilian Afghan Deaths from U.S. Drone Strikes Continue to Build Hatred of U.S.
Wednesday, December 04, 2013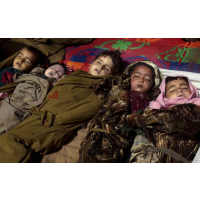 Afghan children killed in a NATO airstrike (photo: Naimatullah Karyab, AP)
Despite U.S. efforts to the contrary, civilians in Afghanistan continue to die in American drone strikes, creating a serious impediment to the Obama administration's plan to keep troops in the country beyond 2014.
As part of the U.S.-led NATO operation, dozens of armed drones fly across the skies of Afghanistan on a daily basis.
The most recent casualty came last week, when a child was reportedly killed in southern Afghanistan as a result of a drone attack.
That tragedy prompted President Hamid Karzai to suggest that his country may not continue its security pact with the U.S. for another 10 years, as proposed by Washington.
The child's death preceded two reports—one Afghan and one American—on a September drone strike that killed multiple civilians.
Back on September 7, a missile fired from a U.S. unmanned aircraft killed 14 Afghans, according to initial reports from locals. American and Afghan officials claimed the attack killed 11. A little later, a coalition source reported 10 had died, all "enemy forces."
However, the governor of Kunar, Shuja ul Mulk Jalala, told the Los Angeles Times last Friday that four women, four children and three civilian men were killed in the September 7 strike. Jalala added that the National Directorate of Security, Afghanistan's intelligence agency, said three of the victims were suspected Taliban fighters.
"Let me tell you, about 70% of the people in that area, especially in Ganbir village, are Taliban," Jalala said. "The mullahs and the praying people are all Taliban."
The next day, Colonel Jane Crichton, director of public affairs for NATO's International Security Assistance Force, said a preliminary investigation had determined three civilians died in the attack, along with eight insurgents.
It was 19-year-old Abdul Ghafar's pick-up truck that was hit by the drone. The truck carried his mother, brother, sister-in-law and nephew, all of whom were killed. "We have the ID cards of these civilians," he told the Times. "We have their graves. If someone can prove these were Taliban, I would accept any punishment."
He insists the U.S. was responsible for the loss of his loved ones, and he now wants vengeance. "If I could attack them, I would."
For his cousin, farmer Miya Jan, who also lost those relatives in the attack, the incident left him grieving and angry at the U.S.
"There were pieces of my family all over the road," Jan told the Times. "I picked up those pieces from the road and from the truck and wrapped them in a sheet to bury them."
"Do the American people want to spend their money this way, on drones that kill our women and children?" he asked.
-Noel Brinkerhoff
To Learn More:
Afghans Describe Relatives' Deaths in Recent U.S. Drone Strike (by David Zucchino, Los Angeles Times)
Report Claims Drones more likely to Kill Civilians than Manned Aircraft (by Noel Brinkerhoff, AllGov)
Drones Now Account for One-Quarter of U.S. Strikes in Afghanistan (by Noel Brinkerhoff, AllGov)