Report Claims Drones more likely to Kill Civilians than Manned Aircraft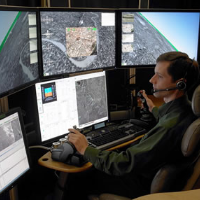 Raaytheon drone cockpit (photo : Raytheon)
Contrary to what President Barack Obama claimed two months ago, a new study by an American military adviser says drones are not more precise in hitting their targets than conventional aircraft—resulting in far higher casualty numbers in Afghanistan.
Larry Lewis, a principal research scientist at the Center for Naval Analyses, which has close ties to the Pentagon, examined a year's worth of classified data regarding drone attacks and civilian deaths and injuries caused by them. Lewis concluded that unmanned aerial vehicles were more likely to kill Afghans not involved in the war than air strikes by fighter jets and bombers.
The study contradicts what Obama proclaimed in a May speech that "conventional airpower or missiles are far less precise than drones, and likely to cause more civilian casualties and local outrage."
Lewis, along with coauthor Sarah Holewinski of the non-governmental organization Center for Civilians in Conflict, published the findings in the defense journal PRISM.
"These findings show us that it's not about the technology, it's about how the technology is used," Holewinski told The Guardian. "Drones aren't magically better at avoiding civilians than fighter jets. When pilots flying jets were given clear directives and training on civilian protection, they were able to lower civilian casualty rates."
The U.S. continues to launch drone strikes in Pakistan, Somalia and Yemen, but Afghanistan sees the highest such activity, with 447 drone attacks in that country last year.
-Noel Brinkerhoff
To Learn More:
US Drone Strikes More Deadly to Afghan Civilians than Manned Aircraft – Adviser (by Spencer Ackerman, The Guardian)
Is the U.S. Government Intentionally Lying About Civilian Drone Strike Casualties? (by Ben Fogel, PolicyMic)
Changing of the Guard: Civilian Protection for an Evolving Military (by Larry Lewis and Sarah Holewinski, PRISM, pages 57-65) (pdf)
Report: US Drone Attacks Rapidly Increasing in Afghanistan (by Liat Clark, Wired)
Despite Talk of Drones, 3/4 of U.S. Missiles in Afghanistan are Fired by Piloted Airplanes (by Matt Bewig, AllGov)
Drones Now Account for One-Quarter of U.S. Strikes in Afghanistan (by Noel Brinkerhoff, AllGov)
Fighting the War in Afghanistan from a Computer in Nevada (AllGov)