Pentagon Admits to Civilian Deaths during Bombing against ISIS Last July
Saturday, January 23, 2016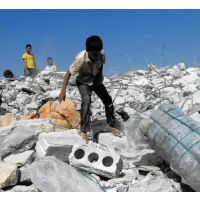 Syrian children look over rubble of home bombed by US-led coalition (photo: Sami Ali, AFP/Getty Images)
WASHINGTON (Reuters) - The U.S. military said on Friday two civilians were likely killed and four others wounded in air strikes against Islamic State targets in Iraq and Syria between July 4 and July 17, 2015.
It was only the fourth time since the start of the U.S.-led air campaign against Islamic State in 2014 that the U.S. military's Central Command has disclosed civilian casualties following its internal investigations. Last week it reported that eight civilians were likely killed in strikes between April 12 and July 4, 2015.
U.S. military data shows there have been 9,782 U.S.-led coalition air strikes as of Jan. 19, with 6,516 in Iraq and 3,266 in Syria.
The two civilian deaths occurred in strikes on July 4 and July 11 near al Raqqa, Islamic State's de facto capital in Syria, said Central Command, which is responsible for American forces in the Middle East region.
"I do think its worth mentioning ISIL's culpability as they continue to operate and hide among innocent civilians and populated areas in an attempt to avoid being targeted," said Air Force Colonel Patrick Ryder, a spokesman at Central Command.
Ryder said that since the beginning of the campaign, 120 allegations of civilian casualties had been received, 87 of which were deemed not credible.
This latest news brings the total number of civilians likely killed to 16, Ryder said.
In one case an air strike targeting 16 bridges likely killed a civilian driving a truck with a trailer, a Central Command statement said. In another case, a secondary explosion from a vehicle near the intended target probably killed a civilian, it said.
Four other people were wounded in three strikes in Syria and Iraq, the statement said.
"In all of the cases released today, assessments determined that although the strikes complied with the law of armed conflict and all appropriate precautions were taken, civilian casualties unfortunately did occur," it said.
Reporting by Idrees Ali.
To Learn More:
In Battle against ISIS, U.S. Reverts to Not Counting Civilian Casualties (by Noel Brinkerhoff and Danny Biederman, AllGov)
U.S. Bombing in Syria Kills Dozens Imprisoned by ISIS for Violating Sharia Law (by Noel Brinkerhoff, AllGov)
Civilian Casualty Guidelines for U.S. Drone Strikes Not Applied to Bombing in Syria and Iraq (by Noel Brinkerhoff and Steve Straehley, AllGov)
Independent Accounting of Civilian and Allied Casualties from Coalition Airstrikes in Iraq and Syria Vastly Exceeds Official Estimate (by Noel Brinkerhoff, AllGov)