Ambassador to Spain and Andorra: Who Is Duke Buchan?
Friday, September 01, 2017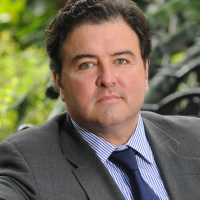 Duke Buchan
Like all his recent predecessors, President Donald Trump is rewarding major campaign donors with plum diplomatic assignments, sending developer "Papa Doug" Manchester to the Bahamas, Woody Johnson to the United Kingdom, Kelly Knight Craft to Canada, Lewis Eisenberg to Italy, Jamie McCourt to France and now, money man Duke Buchan to Spain and the principality of Andorra. Buchan, whose support for Trump came after several other GOP candidacies imploded, donated big money to Trump's campaign and transition. If confirmed by the Senate, Buchan would replace James Costos, a big donor to President Barack Obama who served from 2013 to 2017.
Born July 3, 1963, on a farm near Henderson, North Carolina, that his family has owned for generations, Richard Duke Buchan III earned a BA in Economics and Spanish at the University of North Carolina at Chapel Hill (UNC) in 1985, and an MBA from Harvard Business School in 1991.
At UNC, Buchan was enrolled in the university's study abroad program at the University of Seville, Spain, in 1983-1984, and as a high school student had also studied at the University of Valencia in 1980. Buchan later commented that "the study of the Spanish language, literature and cultures provided me a passport to a world outside the U.S. and instilled in me a global perspective."
Buchan started his career in corporate finance with NCNB National Bank in North Carolina and Florida, and then moved to Smith Barney and NationsBank. From 1992 to 1997, he worked at Merrill Lynch, focusing on corporate finance, including mergers and acquisitions in the financial services sectors of Latin America, the U.S., and Europe.
From 1997 to 2001, Buchan worked at Maverick Capital in New York, where he was responsible for analyzing financial services stocks. The Dallas-based Maverick was co-founded by Sam and Charles Wyly, who were eventually convicted of multiple counts of fraud. From 1998 to 2000, Buchan was on the board of Scottish Annuity and Life, one of many offshore companies the Wylys founded to hide financial transactions from regulators. Buchan himself, however, was never charged with any crimes or civil infractions or implicated.
In 2001 Buchan left Maverick to found Hunter Global Investors, which by 2007 grew to about $1.5 billion in assets. After taking a beating due to losses arising from the European debt crisis, Hunter closed his short-term equity hedge fund Hunter Global Investors LP in December 2011 and returned almost one billion dollars to investors.
A longtime Republican, in 2015 and 2016 Buchan donated at first to Paul Ryan, John McCain, Marco Rubio, and Jeb Bush. After focusing his support on Bush, including donating more than $700,000 to Bush's PAC and serving on its executive committee, Buchan switched to Donald Trump. On July 9, 2016, Buchan co-hosted a $25,000-a-person fundraiser at the home of future Commerce Secretary Wilbur Ross in the Hamptons so that donors could meet Trump and Republican National Committee Chairman Reince Priebus. Buchan and his wife, Hannah, donated $898,000 to Trump Victory—the maximum allowed under federal law. He accompanied Trump to rallies, the Republican National Convention, and all three presidential debates. On inauguration day, the Buchans attended church with Trump and sat nearby as he was sworn-in as president.
Buchan, whose love of the University of North Carolina goes back to childhood days, has supported his alma mater generously. In 2011, Buchan established The Buchan Excellence Fund in UNC's Department of Romance Languages and Literature, "the largest single endowment at Carolina dedicated to support faculty, graduate students and undergraduates in Spanish languages, literature and culture." In 2016, he donated money to fund a new Arts and Sciences Foundation building, which was named Buchan House. Buchan is vice chair of the UNC Arts and Sciences Foundation Board of Trustees, a member of the Chancellor's Philanthropic Council, and served on the University's Campaign Planning Cabinet.
Buchan is an avid polo player who was president of the Mashomack Polo Club in Pine Plains, New York, and won the Palm Beach World Cup Polo Championship in 2013. He owns a horse farm—called Longfield Farm—in Dutchess County, New York, that also grows organic vegetables, and an apartment on Fifth Avenue in Manhattan.
Buchan is married to Hannah (Flournoy) Buchan, the chief investment officer of The Flournoy Companies. The youngest of their three children went to pre-school with Donald Trump's son, Barron. The family lives in Palm Beach, Florida.
Buchan speaks Spanish, and has a working knowledge of Catalan, which has pleased commentators in Spain.
-Matt Bewig
To Learn More:
An Early Trump Backer Awaits his Reward (by Landon Thomas Jr., New York Times)
Is a Spanish Ambassadorship Too Much To Ask For Trump's Biggest Hedge Fund Fanboy (by Owen Davis, DealBreaker)
Trump Slow to Vet Ultra-Rich Ambassador Candidates (by Tara Palmeri, Politico)
Interview with Duke Buchan (Lois Peltz, Strategy Focus)