U.S. Ambassador to Italy: Who Is Lewis Eisenberg?
Saturday, February 18, 2017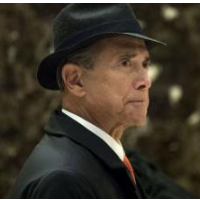 Lewis Eisenberg
The Donald Trump administration added another member of the Goldman Sachs alumni association to its roster when it was announced in January 2017 that financier Lewis Eisenberg would be the next ambassador to Italy. Eisenberg was also the chairman of the Trump Victory Fund, which coordinated fundraising between Trump's campaign and that of the Republican National Committee.
Eisenberg was born in Chicago in 1942. He earned a B.A. at Dartmouth in 1964 and an MBA at Cornell in 1966.
After graduation, Eisenberg went to work for Goldman Sachs. He advanced to be co-head of the firm's equity sales division and a partner. He resigned in November 1989 after a civil lawsuit was filed in State Supreme Court in Manhattan accusing him of harassing a former assistant, Kathy Abraham, after she tried to end a seven-year extramarital affair. Abraham later received a settlement and recanted her claims.
The following year, he co-founded equity firm Granite Capital, of which he is co-chair and private equity chief. He also co-founded Granum Communications.
Eisenberg's day job hasn't kept him out of the political world. In 1993, he was one of the co-founders of the Republican Leadership Council, a relatively moderate group that incurred the wrath of Republican conservatives. In 1995, he was named chair of the Port Authority of New York and New Jersey, a post he held when the agency's World Trade Center was attacked on September 11, 2001. At that time, Eisenberg was considering a run for the U.S. Senate from New Jersey, but instead he left the Port Authority shortly after the attacks for a seat on the Lower Manhattan Development Corporation board.
In 2002, he was also named finance chairman of the Republican Party for the first time. Eisenberg's relative moderation made him a surprising choice in some corners of the George W. Bush administration, but he compensated for his politics with a long list of potential donors.
Eisenberg left the GOP post in 2004, only to come back to it in 2015 as the party was gearing up for the 2016 presidential contest. Eisenberg backed Jeb Bush early in the campaign, but later donated money to Trump-related committees. There was some talk that Eisenberg might be in line for a cabinet post in the Trump administration, but he had to settle for the ambassadorship.
In addition to his work at Granite Capital, since 2009 Eisenberg has been a senior advisor at the KKR equity firm.
Eisenberg has also been active in Jewish causes, having, among other activities, been the executive director of the Jewish Chautauqua Society, which sponsored courses in Judaic studies at universities.
Eisenberg and his wife, Judith, have three daughters—Lisa, Stacy and Laura—and ten grandchildren.
-Steve Straehley, David Wallechinsky
To Learn More:
NJ Godfather Lew Eisenberg Named to Top National GOP Finance Spot (by Kevin B. Sanders, Observer)