Secretary of Commerce: Who Is Wilbur Ross?
Wednesday, January 18, 2017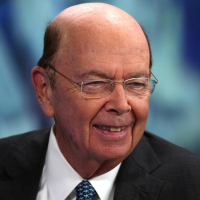 Wilbur Ross (photo: Chris Ratcliffe, Bloomberg/Getty Images)
Donald Trump, who has put several of his businesses into bankruptcy, on November 30, 2016, nominated the so-called "King of Bankruptcy," Wilbur Ross, to be his Commerce Secretary. By a vote of 72 to 27, the U.S. Senate confirmed Ross for the post on February 27, 2017.
Ross was born November 28, 1937, in Weehawken, New Jersey. His father, Wilbur Sr., was a prominent attorney and judge, and his mother, Agnes, a school teacher. Ross traveled into Manhattan to attend Xavier High School, where he graduated in 1955. He then went to Yale with the idea of becoming a writer, but a Wall Street internship caused him to turn toward the business world. He graduated with a B.A. in 1959, and then went to Harvard, earning an MBA in 1961.
Ross began his career working for money management firms and investment banks. In the mid-1970s, he joined Rothschild's commercial division and became a bankruptcy adviser, working with corporations and other interested parties. In the late 1980s, Ross represented Pan Am's unions in a bid to save the ultimately doomed airline. He advised Texaco's shareholders while the oil giant was being sued for $10.3 billion by Pennzoil over a merger with Getty Oil. Pennzoil eventually settled for $3 billion, in addition to $2.5 billion Texaco paid to creditors.
Ross was also involved with Trump's casino, the Taj Mahal in Atlantic City. Ross, who held some bonds issued by the casino, was able to convince Trump's creditors that they were better off making a deal with Trump than forcing the property into a quick bankruptcy, and Trump maintained control of the casino after a more orderly filing.
In 2000, Ross left Rothschild and set up his own investment fund, WL Ross & Co. Ross' big success in that era came when he sensed that President George W. Bush was about to impose tariffs on imported steel. Ross bought LTV and other distressed steel firms right before the Bush administration imposed a 30% tariff on steel. Ross in 2004 sold what became the International Steel Group for $4.5 billion and he was on his way to earning the "King of Bankruptcy" name.
Another deal didn't work out as well. In 2004, Ross formed the International Coal Group. Two years later, one of its properties, West Virginia's Sago mine, suffered an explosion. Twelve miners were killed in the blast. The suits from that disaster weren't settled until 2011.
Ross sold WL Ross to Investco in 2006 for $375 million, but remained chairman and chief strategy officer.
Ross has made significant investments in Chinese businesses. After China joined the World Trade Organization, Ross formed apparel manufacturer International Textile Group as part of a joint venture in a factory in that country. In 2008, he entered a joint venture with state-owned China Huaneng Group, which was run by a son of former Chinese premier Li Peng.
Ross was even a backer of one of Trump's biggest bogeymen—the Trans Pacific Partnership (TPP) trade agreement. A letter signed by Ross along with other businessmen read, in part: "Trade experts and economists agree that the TPP would be a catalyst for creating new jobs in the United States, attracting more foreign investment to this country, and benefitting American workers in a broad range of industries." More recently, Ross has changed his tune on the deal. The day he was nominated for the Commerce post, Ross went on CNBC and called TPP "horrible."
Ross has many business interests that he would have to sell or put into blind trusts in order to join the Cabinet. According to the 57-page financial disclosure statement (pdf) he filed one day before his confirmation hearing on January 18, 2017, he is currently on the board of directors of 59 different companies and foundations. Among them are ArcelorMittal, the world's largest steel company; the Bank of Cyprus, of which he is vice-chairman; Exco Resources; Sun National Bank; and Nexeo Solutions. He is chairman of International Automotive Components Group, an auto parts manufacturer with facilities in Mexico.
The incoming Commerce secretary will have to make at least five decisions concerning the steel industry shortly after taking office, according to ProPublica. The department has been investigating charges of unfair steel pricing by Belgium, France, Germany and Italy. ArcelorMittal could be a beneficiary of Ross' decision.
"He might be the second-most complicated person in the administration to vet, behind the President-elect himself," Norman Eisen, a Brookings Institution visiting fellow who once served as President Barack Obama's chief ethics lawyer, told Politico. Another conflict might be ideological. Ross serves on the board of the liberal-leaning Brookings.
In fact, Ross has only recently become a Republican. He had been registered as a Democrat in Palm Beach, Florida, (where he lives right down the street from Trump's Mar-a-Lago) since 2003. Ross didn't change his registration until after Trump was elected. Still, he has a history of advocating for looser regulations on businesses, also one of Trump's talking points.
In addition to his affinity for Chinese businesses, Ross collects Chinese art, among other styles of paintings and other art. His collection of works by the Belgian painter René Magritte is said to be better than the one at the Magritte museum in Belgium.
Like Trump, Ross has been married three times. The first, in 1961 to Judith Nodine, produced two daughters, Jessica and Amanda. In 1995, Ross was divorced and shortly thereafter married Betsy McCaughey, who served as New York's lieutenant governor from 1995 to 1998. Ross then put $2.25 million into McCaughey's 1998 campaign against George Pataki, but when the campaign began to go south, Ross pulled out his money and divorced McCaughey. He was forced to auction off some artwork to pay for the settlement. In 2004, Ross married society writer Hilary Geary.
-Steve Straehley
To Learn More:
Commerce Pick Wilbur Ross to Divest at least 80 Holdings (by Matthew Goldstein, New York Times)
"Vulture" or "Phoenix"? Wilbur Ross, Risk-Taker, Is Eyed for Commerce Post (by Matthew Goldstein, New York Times)
Wilbur Ross's Chinese Love Affair (by Ben Schreckinger, Politico)
Trump's Pick for Commerce Secretary May Have the Biggest Conflicts of Them All (by Derek Kravitz, ProPublica)
What You Need To Know About Commerce Secretary Pick Wilbur Ross, Trump's Billionaire Pal (by Chase Peterson-Withorn, Forbes)