Ambassador of the U.S. to the Bahamas: Who is Doug Manchester?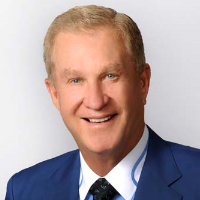 Doug Manchester
On May 15, 2017, President Donald Trump announced that the next U.S. ambassador to the Bahamas will be a rich, ultraconservative real estate developer and hotel owner who became a media figure in his sixties, has fathered a large family, and opposes same-sex marriage as an affront to "traditional" marriage but divorced his wife to marry a much younger woman from the former Soviet bloc…just like Donald Trump. This Trump doppelganger is Doug Manchester, who contributed early and heavily to Trump's presidential campaign and is being rewarded with the Bahamas nomination. Manchester already has a home in the Lyford Cay gated community on Bahamas' New Providence Island.
Manchester, who insists on being called "Papa Doug," backed Trump early, donating $50,000 to the "Make America Great Again" PAC in 2015. Both he and his second wife, Geniya Derzhavina Manchester, gave $454,800 to pro-Trump PACs. Manchester also helped organize several fundraisers, was a Trump delegate to the Republican convention, and donated $1 million to Trump's inauguration.
Just two weeks after Trump's inauguration, Manchester gushed that "for the first time, a true capitalist is in the White House, an incredibly smart man with a big heart and an amazing family."
Born June 3, 1942, in Los Angeles, California, Douglas Frederick Manchester grew up in Coronado, California; Pueblo, Colorado; and San Diego's Pacific Beach neighborhood, where his father managed an apartment building. He graduated La Jolla High School in 1961, and earned a B.S. in Business at San Diego State University in 1965, where he worked as an insurance salesman. Also in 1965, Manchester married his girlfriend, Betsy Eldredge, with whom he eventually had five children.
After college, Manchester went into real estate, founding the Manchester Financial Group in 1970. Over the years, Manchester's company built a number of big buildings in San Diego, including First National Bank Center, the San Diego Marriott Marquis & Marina, the Manchester Grand Hyatt Hotel San Diego, and the Fairmont Grand Del Mar luxury resort. Manchester also founded two banks, the La Jolla Bank and Trust Company and La Jolla Pacific Savings Bank.
But in 2008, life started getting difficult for Manchester. He donated more than $125,000 to California Proposition 8 to ban same-sex marriage, claiming that his "Catholic faith…leads me to believe that marriage should be between a man and a woman." His activism for Prop 8, which passed in 2008, but later was ruled unconstitutional, led gay rights groups to boycott Manchester's hotels. Manchester eventually apologized, offering $125,000 in cash and hotel credit to same-sex rights groups, saying he's against gay marriage, not gays and lesbians.
In a stroke of irony, in October 2008—just a month before the Prop 8 vote—Manchester left his wife of 43 years, who filed for divorce in June 2009. After several years of hardball litigation—Betsy alleged that "Papa Doug" drained their joint bank accounts and opened her mail—their divorce was finalized November 7, 2013. Just six weeks after the demise of his "traditional marriage," on December 21, 2013, Doug Manchester, age 71, married Geniya Derzhavina, a 38-year-old Siberian.
Also in 2013, Manchester got himself and his business into hot water when San Diego Mayor Bob Filner—a Democrat whose election Manchester had opposed—told a large audience that Manchester had asked him, through an aide, to "to intervene and stop the code enforcement" actions the City had taken because of several longstanding violations at Manchester's Grand Del Mar resort. Eventually, according to Dorian Hargrove of the San Diego Reader, Manchester had to sign a settlement, agreeing "to not only mitigate impacts to natural habitat and stop using the [non-permitted facilities] but to also fork over $87,000 in fines and $250,000 for ongoing maintenance."
At the same time, Manchester's attempt to build a conservative media empire in San Diego took off—and crashed. Manchester bought The San Diego Union-Tribune in 2011 for $110 million, acquiring his only daily competitor, the North County Times, for $12 million in 2012 as well as eight local weeklies in 2013.
From the outset, Manchester openly used the newspaper to promote conservative politics and construction projects that were in his financial interest. By 2012, New York Times writer David Carr opined that Manchester was using the paper as a "brochure for his special interests," and criticized his ownership as "a situation where moneyed interests buy papers and use them to prosecute a political and commercial agenda."
In 2015, after several years of falling circulation, Manchester sold The San Diego Union-Tribune to the Tribune Publishing Company, which owns The Los Angeles Times, for $85 million—a loss of at least $30 million. Around the same time, deprived of his bully pulpit, Manchester began his political dalliance with Donald Trump, leading ultimately to his ambassadorial nomination.
Manchester has been a major philanthropist in San Diego. He has made large donations to many local institutions, including San Diego State University, the University of San Diego, and the San Diego Symphony. He is a former trustee of the University of San Diego and of Wake Forest University, and has served on the board of trustees of the Sanford Burnham Prebys Medical Discovery Institute.
Doug Manchester has played himself in three TV movies. The San Diego County Board of Supervisors declared May 31, 2012 (his 70th birthday) to be "Papa Doug Manchester Day."
-Matt Bewig
To Learn More:
Doug Manchester to be Bahama Papa for U.S.? (by Don Bauder, San Diego Reader)
Who Runs San Diego? Douglas Manchester and U-T San Diego (by Eva Posner, San Diego Free Press)
The Fall of The San Diego Union-Tribune: How A Major GOP Donor Turned A Respected Paper Into A Corporate Shill (by Joe Strupp, Media Matters)