5 Trump Business Ties that Pose Conflicts for the President-Elect
Monday, November 28, 2016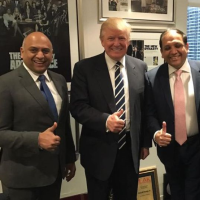 After Trump's presidential win, Indian real estate executives met to discuss expanding partnership with him (photo: Devandra Jain, Twitter)
By Bernard Condon, AP Business Writer
NEW YORK (AP) — After Ivanka Trump appeared on CBS's "60 Minutes" wearing a $10,800 bracelet from her jewelry line, someone at her company sent photos from the interview to fashion writers to drum up free publicity. A firestorm of criticism erupted over the impropriety of profiting off the presidency, and the company apologized.
If only the bracelet brouhaha was the end of it.
Experts on government ethics are warning President-elect Donald Trump that he'll never shake suspicions of a clash between his private interests and the public good if he doesn't sell off his vast holdings, which include roughly 500 companies in more than a dozen countries. They say just the appearance of conflicts is likely to tie up the new administration in investigations, lawsuits and squabbles, stoked perhaps by angry Oval Office tweets.
"People are itching to sue Donald Trump and stick him under oath," said Richard Painter, chief White House ethics lawyer for George W. Bush.
In an interview with The New York Times on Tuesday, Trump insisted that the "law's totally on my side," and ethics experts agree that federal conflicts of interest rules don't apply to the president so he can run his business pretty much the way he pleases while in office. His company, The Trump Organization, had no comment on the conflicts issue, other than a statement reiterating its plans to transfer control of the company to three of the president-elect's adult children.
Painter doesn't think that goes far enough. In a letter to Trump last week, he joined watchdog groups and ethics lawyers from both Democratic and Republican administrations in predicting "rampant, inescapable" conflicts that will engulf the new administration if the president-elect does not liquidate his business holdings.
A look at five areas where conflicts may arise:
NEW HOTEL
For use of the government-owned Old Post Office for his new Washington hotel, Trump agreed on annual rent to the government in a contract that was signed more than three years ago.
So what possibly could be the problem now?
Plenty, according to Steven Schooner, a professor of government procurement law at George Washington University who has studied the contract. In addition to base rent, the president-elect agreed to additional annual payments based on various financial measures of how well the hotel is doing. Schooner says such payments typically require drawn out negotiations each year.
"How can anyone expect a government employee to negotiate with the Trump family at arm's length and treat the Trump family like any other contractor?" Schooner asks.
Schooner thinks Trump should terminate the contract because, even if the Trump family acts honorably, the appearance a conflict will spread doubt throughout the contracting system. Federal rules prohibit government employees and elected officials from striking contracting deals with the government for just this reason, though the president is exempted.
"The U.S. government pays over $400 billion in contracts a year," Schooner says. "Why should other contractors have to follow the rule if the President of the United States doesn't have to?"
As president, Trump will have the authority to appoint a new head to the General Services Administration, the federal agency that signed the lease with Trump and will negotiate the rent each year.
Business at the hotel could get a lift if foreign dignitaries decide to stay at the new hotel to curry favor with the new president.
In addition to the Washington hotel, Trump Organization leases land from some local governments, including for a golf course in New York City and one in Florida.
FOREIGN AFFAIRS
Trump's extensive operations abroad raise the possibility that his foreign policy could be shaped by his business interests, and vice versa. Trump has struck real estate deals in South Korea, the Philippines, Indonesia, Uruguay, Panama, India and Turkey, among other countries.
In June, Turkish media reported that President Recep Tayyip Erdogan called for Trump's name to be removed from the Trump Towers in Istanbul because of what Erdogan characterized as anti-Muslim comments by the candidate. A NATO member, Turkey is a key ally in fighting the Islamic State group in Syria.
In India, the newspaper Economic Times reported that Trump held a meeting in New York a week after his election with business partners who put up the Trump Towers Pune in the western part of the country. The president-elect also has a Trump-branded residential tower in nearly Mumbai with another company.
Kenneth Gross, head of political law at the firm Skadden, Arps, Slate, Meagher & Flom, says Trump's business ties will raise suspicions that he is getting special deals abroad because he is president, and that this runs the risk of violating the Emolument Clause. That is a section of the U.S. Constitution that forbids public officials from receiving gifts from foreign governments and foreign-controlled companies without the consent of Congress.
"He can't avoid conflicts," said Gross, "unless he sells his assets."
TRUMP LENDER
One of Trump's biggest lenders is Deutsche Bank, a German giant in settlement negotiations with the Department of Justice on its role in the mortgage blowup that triggered the 2008 financial crisis. The hit to Deutsche could be substantial, with the government reportedly demanding $14 billion.
Will a Justice Department under Trump go easy on the bank? It's not clear anyone will know. Trump will nominate the head of that agency, too.
One possible response is for Trump to make sure the Deutsche case is handled by career civil servants at Justice, and any appointee like the Attorney General is recused. A career civil servant doesn't have to worry about being fired if he goes against Trump's wishes, but may still worry about displeasing bosses connected to the president.
More than 300 positions at Justice are currently held by presidential appointees.
TAX AUDIT
The odds that the IRS will rule against Trump may be no different than before he was elected, but it's difficult to know for sure.
Trump has cited a long running audit by the Internal Revenue Service in refusing to release his tax returns. If he is under scrutiny, it's not surprising. In his Oct. 9 debate with Hillary Clinton, Trump confirmed he used a $916 million loss in 1995 to avoid paying federal taxes for years.
The president nominates the commissioner of the IRS who, assuming the Senate approves, serves for five years.
Trump will also get to make appointments to the National Labor Relations Board, which rules on labor disputes. In July, the board ruled against Trump in a case involving workers trying to unionize at the Trump Hotel Las Vegas. The Trump Organization lists six other hotels in the U.S. on its website.
FLURRY OF LAWSUITS
Trump said that he agreed to pay $25 million to settle three lawsuits alleging fraud at his Trump University so he could focus on preparing for his presidency. But this could also bring problems, as Trump himself has acknowledged previously.
"When you start settling cases, you know what happens?" the president-elect said earlier this year. "Everybody sues you because you get known as a settler."
Painter, the ethics lawyer for George W. Bush, predicts the political divide in Washington is going to make things worse.
"The plaintiff's lawyers are going to get in there because they can get a good settlement, and Trump's political enemies are going to egg it on," says Painter. "You put that all together and you're going to have a lot of potential for litigation."
Painter says Trump should sell his ownership stakes to minimize the danger the new president gets distracted by lawsuits. He adds, though, that this is just a partial fix. The famously litigious Trump already is facing numerous lawsuits.
Asked to sum up his view on Trump's situation, Painter replies, "A mess, a mess."
To Learn More:
With No Ethics Rules Binding U.S. Presidents, Trump Business Ventures Put Conflicts of Interest at High Risk (by Bernard Condon, Associated Press)
ACLU Gears Up to Fight in Court Anticipated "Unconstitutional Acts" by a President Trump (by Bianca Bruno, Courthouse News Service)
Florida Attorney General Abandoned Trump Fraud Lawsuit after Soliciting and Receiving Trump Donation (by Jeff Horwitz, Gary Fineout and Michael Biesecker, Associated Press)