Former British Agent Claims UK Spy Agency Knew of Guantanamo Inmate Torture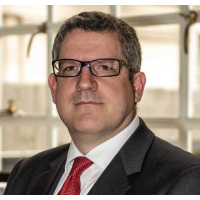 MI5 Director General Andrew Parker (photo: AFP/Getty Images)
LONDON (Reuters) - A former senior British intelligence officer wants to give evidence that the country's security services knew about the torture of inmates at the U.S. prison camp in Guantanamo Bay, a newspaper reported.
The former officer is seeking permission to present evidence to a forthcoming parliamentary inquiry that British officials saw detainees being tortured in December 2002, the Sunday Times said quoting senior security sources.
Details of torture were disclosed during meetings held at the London headquarters of Britain's MI5 in 2002 and the evidence is believed to include claims that British officials witnessed inmates being chained, hooded, waterboarded and subjected to mental abuse by CIA officials, the report said.
No one was immediately available to comment at Britain's interior ministry which handles media queries relating to MI5.
A report by the U.S. Senate published in 2014 said the CIA used sexual threats, waterboarding and other harsh methods to interrogate terrorism suspects in the years after the Sept. 11, 2001, attacks on the United States.
A former British inmate at Guantanamo said last month that British security officers witnessed him being tortured by American soldiers in Afghanistan.
Separately, a former British inmate at Guantanamo said in 2014 he underwent psychological torture included execution threats and light deprivation.
The prison in Guantanamo, in Cuba, was opened in 2002 to house foreign terrorism suspects but has drawn international criticism from human rights activists and many foreign governments. U.S. President Barack Obama is seeking to close it.
Reporting by Kylie MacLellan.
To Learn More:
Current Guantánamo Prisoner Publishes Book about his Experiences (by Noel Brinkerhoff, AllGov)
Federal Court Blocks Release of Possible Torture Video (by Noel Brinkerhoff, AllGov)
Guantánamo Military Lawyer Resigns; Talks of "Show Trial" Tainted by Torture (by Noel Brinkerhoff, AllGov)
American Psychological Association Refuses to Charge Member Who Committed Torture at Guantánamo (by Noel Brinkerhoff and Danny Biederman, AllGov)
U.S. Used Sesame Street Music to Torture Guantánamo Prisoners (by Noel Brinkerhoff and David Wallechinsky, AllGov)
Is It Finally Time to Punish Pro-Torture Judge and Doctors? (by Noel Brinkerhoff and David Wallechinsky, AllGov)