Guantánamo Military Lawyer Resigns; Talks of "Show Trial" Tainted by Torture
Wednesday, September 03, 2014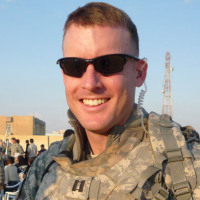 Jason Wright
A nine-year Army veteran and military lawyer harshly criticized the Obama administration's tribunals for detainees held at Guantánamo Bay.
Jason Wright, who held the rank of major until resigning earlier this year, spent three years helping defend Khalid Sheikh Mohammed, the admitted mastermind of the 9/11 attacks.
Wright would have stayed in the Army if his superiors hadn't insisted he leave his duties as defense counsel for Mohammed to attend a graduate course mandated after being promoted from captain. He insisted it would have been unethical of him to abandon his client awaiting trial. Since the Army refused to grant him a second deferral (after receiving one last year), Wright chose to resign his commission in order to stay on for a time as Mohammed's attorney.
Not that Mohammed, who could be sentenced to death if found guilty, is likely to receive a fair trial, according to Wright. "The U.S. government is trying to call this a fair trial, while stacking the deck so much against the defense and the accused that it can hardly be called a fair trial in any system in the world," he told National Public Radio.
Mohammed was waterboarded 183 times and subjected to a week of sleep deprivation while being held by the Central Intelligence Agency.
"Leave aside our constitutional principles—which we should try to uphold irrespective of who the defendant may be—the Constitution has been completely stepped on throughout this entire process," Wright added. "That's a separate and distinct issue of how the U.S. now has shown just abhorrent leadership when it comes to actually following essential, fundamental human rights and due-process guarantees."
He further said the tribunal system is set up so if a defendant is "acquitted, they will not be set free."
"That is actually the very definition of a show trial," Wright said.
Wright would like to stay on as Mohammed's attorney, but it's not clear that he'll be able to do so. Requests by members of Mohammed's defense team that Wright be assigned to the case as a civilian have not yet been successful.
-Noel Brinkerhoff
To Learn More:
Guantanamo Defense Lawyer Resigns, Says U.S. Case Is 'Stacked' (National Public Radio)
Indefensible: Why Khalid Sheikh Mohammed's Lawyer is Leaving the Defense Team—and the Army (by Gabriel Urza, Slate)
KSM Lawyer Sacrifices Military Career to Stay on Case (by Adam Kredo, Washington Free Beacon)
9/11 Suspects Can't Mention being Tortured during Trial Testimony because Their Torture is Classified (by Matt Bewig, AllGov)