Federal Court Blocks Release of Possible Torture Video
Sunday, September 07, 2014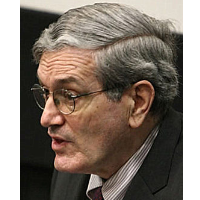 Judge José Cabranes
Efforts to expose videos and photos that documented torture at Guantánamo have been blocked by a federal appeals court in New York that sided with the Obama administration in its refusal to turn over the information.
The case centered on the treatment of Mohammed al-Qahtani, dubbed the 20th hijacker in the 9/11 attacks. Captured in 2001 and held at Guantánamo since then, al-Qahtani has been subjected to torture and other harsh treatment during his detention, according to his lawyers at the Center for Constitutional Rights (CCR).
CCR filed a Freedom of Information Act lawsuit to force the administration to release photos and videos depicting its client's abuse at the U.S. prison in Cuba.
There are reportedly 58 videos in the possession of the Federal Bureau of Investigation,
Kevin Gosztola wrote at Fire Dog Lake, which show Qahtani's "activities in his cell and his interactions" with U.S. military personnel. Two videos allegedly depict "forced cell extractions" involving Qahtani that resulted in abusive or aggressive behavior on the part of his jailers.
But those recordings will not see the light of day anytime soon. The government successfully argued "with adequate specificity" that the footage and images "could logically and plausibly harm national security because these images are uniquely susceptible to use by anti-American extremists as propaganda to incite violence against United States interests domestically and abroad," Judge José Cabranes wrote in the court's opinion.
-Noel Brinkerhoff
To Learn More:
Court: Releasing Images of Guantanamo Prisoner Would Incite Violence, Especially Since He Was Tortured (by Kevin Gosztola, Fire Dog Lake)
No Daylight for US Govt Photos, Video That May Show Gitmo Torture (by Nadia Prupis, Common Dreams)
Circuit Keeps Lid Closed on al-Qahtani Footage (by Adam Klasfeld, Courthouse News Service)
Center for Constitutional Rights v. Central Intelligence Agency (Second Circuit Court of Appeals)
Group Sues U.S. Government to Force Release of Only Known Remaining Torture Video (by Noel Brinkerhoff, AllGov)