50 Years of State of the Union Speeches: 66 Nations Ignored, While Others—Like Iraq and Russia—Get All the Attention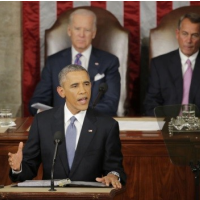 (AP photo)
The State of the Union speech is much more than a review of how well the United States and its people are doing. Presidents have used it for previewing initiatives and giving shout-outs to people they believe should be pointed out to America. Also often mentioned in the speech are foreign nations, many times those with which the United States is at odds.
Iraq has been mentioned more than any other foreign nation in the past 50 years, 128 times. It was pushed over the top by President George W. Bush, who uttered its name 95 times in the eight State of the Union speeches he gave. Next is the Soviet Union/Russia at 108 mentions, 42 of them by President Jimmy Carter in his three speeches. Vietnam is next at 90, with 67 mentions by, no surprise, President Lyndon Johnson.
But 66 countries still haven't been mentioned in a State of the Union address. It's probably no surprise that Vanuatu hasn't come up in any of the speeches. Even some of our North American neighbors have been snubbed: the Bahamas, Belize and Guatemala are still waiting for their big moment.
And there are a few countries of strategic importance that have escaped mention. The United Arab Emirates, a huge oil producer; Belgium, home of the European Union and NATO; and banking capital Switzerland all have been shut out of the State of the Union. Finland and Sweden haven't been mentioned, but Norway got a shout-out from George W. Bush.
The most populous nation not mentioned in a State of the Union speech has been Bangladesh, with all of its 157,699,000 citizens being left out in the cold, at least as far as the annual address is concerned.
-Steve Straehley
To Learn More:
These 66 Countries Haven't Merited Mention in More than 50 Years of State of the Union Speeches (by Adam Taylor, Washington Post)
A Different World for Each President (by Ted Mellnik and Vesko Cholakov, Washington Post)
State of the Union Speech: Obama Sounded a Lot Like Clinton (by Noel Brinkerhoff and David Wallechinsky, AllGov)