Overview
Known as the New Hebrides, the island group had the distinction of having two colonial rulers—at the same time. The British and French shared the islands with duplicating administrations and much confusion and inaction. When independence came, schisms developed between those used to using English and those used to using French. Some islands even rebelled and tried to secede. The rebellions were suppressed, with the help of troops from Papua New Guinea. Democracy seemed to prevail, as sometimes English speakers would win, and sometimes French. There are actually more than 100 indigenous languages and tribal groups, including the people of Pentecost Island who practice land diving, the inspiration for the "sport" of bungee jumping. For many Americans, Vanuatu is best known as the setting of James Michener's Tales of the South Pacific.
more
less
Basic Information
Lay of the Land: Vanuatu is south of the Solomon Islands and east of Australia. It consists of several large volcanic islands with rugged and heavily forested mountains in the interior and narrow plains around the coast.
Population: 215,000
Religions: Presbyterian 31.4%, Anglican 13.4%, Roman Catholic 13.1%, Seventh Day Adventist 10.8%, other Christian 13.8%, indigenous beliefs 5.6% (including Jon Frum cargo cult), other 9.6%, none 1%, unspecified 0.3%.
Ethnic Groups: Melanesian (Ni-Vanuatu) 98.5%, other 1.5%.
Languages: About 114 indigenous languages spoken by 72.6%, Pidgin (Bislama) 23.1%, English 1.9%, French 1.4%, other 0.3%, unspecified 0.7%.
more
less
History
Vanuatu was settled by Melanesians about 3,000 years ago. They were divided into more than a hundred tribal groups, each with its own language, and they developed some interesting traditions including, on the island of Pentecost, land diving. European explorers eventually stumbled across the islands and they were soon followed by sandalwood traders. The abuses caused by these traders resulted in missionaries being attacked and killed. Various missionaries persevered, and slowly they made converts. When a measles outbreak wiped out thousands of islanders, missionaries were blamed and some were killed. Then blackbirders showed up, and more abuses were heaped on the people of Vanuatu. Both Britain and France were interested in the group, with traders and missionaries from both having settled in the islands. In 1906, Britain and France, in an unusally bizarre arrangement, agreed to share Vanuatu in a government known as "condominium." There were two of everything: two police systems, two court systems, two education systems, two customs and immigration systems. Very little was accomplished during this period.
After World War II, the condominium government stumbled along, accomplishing little. Full independence was achieved in 1980. Upon independence, on some islands, fighting broke out between French-leaning and English-leaning factions. The government was dominated by Anglophones, and many Francophones felt disenfranchised. The largest island of Espiritu Santo seceded from the country and there were anti- government activities on Tanna as well. Neither Britain nor France would do anything because they supported different factions. The new Vanuatu government sought help from Papua New Guinea (PNG), which sent troops. The PNG troops occupied Espiritu Santo, crushed the rebellion, and arrested the leaders. This caused strained relations with France, but later a Francophone government was elected and Vanuatu-French relations improved.
more
less
History of U.S. Relations with Vanuatu
During World War II, the United States established a huge base on Espiritu Santo and another at Port-Vila. The massive amounts of supplies and equipment brought in encouraged the people's cargo cult beliefs, which had developed in the era of the traders. (In an unusually wasteful move, a military officer, as the base was being closed and the soldiers sent home, ordered hundreds of thousands of dollars worth of heavy equipment thrown into the sea.) Practitioners of cargo cults believe that if they say the right prayers and practice the right rituals, some day planes and ships will come, bringing goods just for them. Wartime Vanuatu was the main setting for James Michener's Tales of the South Pacific.
The United States was not happy when Vanuatu signed a fishing treaty with the Soviet Union in 1987. The treaty only lasted a year, as the Soviet Union fell apart. The United States was also critical of Vanuatu's contacts with Libya and Cuba. Vanuatu had taken a pro-Melanesian stance, especially with regard to the independence movements in New Caledonia and Papua, the Indonesian half of New Guinea, and the overthrow of Indian-dominated governments in Fiji. The concern was that Vanuatu would harbor and train revolutionaries who would be infiltrated into New Caledonia or Papua to help the revolutions there and perhaps create instability in other groups in the Pacific. But by 1990 a pro-French government had been elected in Vanuatu, no terrorist camps were ever established, and the United States' concerns melted away.
more
less
Where Does the Money Flow
In 2007 the United States imported $885,000 worth of goods from Vanuatu, about half being tobacco, waxes, and non-food oils. This was down from $2,259,000 in 2006, a drop mostly in artwork and re-imports. The United States in 2007 exported goods worth $23,948,000, mostly in vessels and measuring, testing, and control instruments. The U.S. foreign aid request for Vanuatu for 2008 was only $115,000 to help train police to enforce maritime laws. However, this does not include the large Peace Corps presence in Vanuatu. Also, in 2006 the United States and Vanuatu singed an agreement which will provide Vanuatu $65.7 million dollars as part of the U.S. Millennium Challenge Corporation. This five-year agreement is to help improve transportation, trade, and tourism.
more
less
Past Ambassadors
Robert W. Fitts 9/11/03-10/2/06 (also accredited to Solomon Islands and Papua New Guinea)
Susan S. Jacobs 11/7/00-8/1/03 (also accredited to Solomon Islands and Papua New Guinea)
Arma Jane Karaer 4/15/97-5/28/00 (also accredited to Solomon Islands and Papua New Guinea)
Richard W. Teare 11/23/93-7/14/96 (also accredited to Solomon Islands and Papua New Guinea)
Robert William Farrand 5/1/90-9/13/93 (also accredited to Solomon Islands and Papua New Guinea)
Everett E. Bierman 11/11/86-10/30/89 (also accredited to Solomon Islands and Papua New Guinea)
more
less
Vanuatu's Ambassador to the U.S.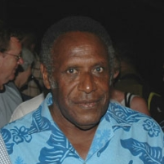 Kalpokas, Donald
Donald Kalpokas became Vanuatu's ambassador to the United States in November 2007. He is also Vanuatu's permanent representative to the United Nations. Kalpokas is a graduate of Ardmore Teacher's College in New Zealand (1967) and the University of the South Pacific in Fiji (1974). He has spent a total of 10 years as a teacher. In 1988 he became Vanuatu's Foreign Minister. Kalpokas was Prime Minister briefly in 1991, and opposition leader from 1991 to 1995. He became Prime Minister again from 1998 to 1999. From 2000 to 2004 he was a member of parliament and State Minister. Kalpokas speaks English, Bislama, and some Efate Island dialects.
more
less
Vanuatu's Embassy Web Site in the U.S.
Vanuatu does not have an embassy in the United States. It does have a permanent mission to the United Nations.
Permanent Mission of the Republic of Vanuatu to the United Nations
800 Second Avenue, Suite 400B, New York, NY 10017
Telephone: (212) 661-4323/4303
Telefax: (212) 422-3427, 661-5544
E-mail: vanunmis@aol.com
more
less