Weapons Companies Profit from Fear of Iran Campaign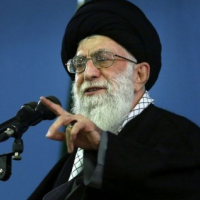 Iran's Ayatollah Ali Khamenei (AP photo)
Iran has been a great bogeyman for American merchants of war by helping boost billions of dollars in military sales to oil-rich states in the Middle East.
In the last five years, U.S. arms purchases by Gulf Arab countries have skyrocketed by 70%, The Guardian has reported. Saudi Arabia alone has paid out $90 billion to American arms firms between 2010 and 2014, according to a new Congressional Research Service (CRS) report (pdf), making the Saudis the world's largest importer of U.S. weapons.
Alex Kane at AlterNet singled out four major U.S. defense contractors who, in recent years, have benefited enormously by selling weapons systems and munitions to Persian Gulf countries that have worried about Iranian military plans in the region.
Boeing has reached deals with the United Arab Emirates (UAE) and Kuwait for C-17 transport planes that totaled more than $1 billion. The company also made $10 billion from sales of high-tech missiles to Saudi Arabia and the UAE, $23 billion providing Apache attack helicopters to Qatar, and nearly $30 billion selling 84 F-15 fighters—reportedly pre-loaded with thousands of bombs—to the Saudis.
Raytheon made $1 billion on a 2013 contract to supply Saudi Arabia with 15,000 anti-tank missiles, according to Kane. It also earned $600 million from the Saudis by selling them a Command, Control, Communications, Computers and Intelligence (C4I) system. Additionally, Raytheon participated in the $23 billion Apache deal with Qatar, which also paid the company another $1.7 billion for its Patriot missiles.
In 2008, Raytheon made $3.3 billion supplying the UAE with Patriots, and five years later it collected $2 billion from Oman for a ground-based defense system against air attacks.
Lockheed Martin has done well for itself, too. It made nearly $4 billion from the UAE for its anti-ballistic missiles system known as Terminal High Altitude Area Defense. It earned $600 million from Oman for a dozen fighter jets, and $22 million from the Saudis to support its fleet of Apache helicopters.
Helicopter maker Sikorsky Aircraft made $30 million from the sale of 12 Black Hawks to Saudi Arabia, and $270 million to upgrade the UAE's supply of the helicopters.
U.S. defense contractors should have no fear of losing Saudi Arabia as its best customer for some time to come. According to CRS, Washington's military and security ties with the Saudis are deeply entrenched and unlikely to shift anytime soon. They are "anchored by long-standing military training programs and supplemented by ongoing high-value weapons sales and new critical infrastructure security cooperation and counterterrorism initiatives," said the CRS report. "These ties would be difficult and costly for either side to fully break or replace."
But that didn't stop Saudi King Salman from joining several other Arab monarchs in boycotting the recent U.S.-Gulf summit hosted by President Obama. The snubbing (other high officials stood in for those heads of state) was viewed as a sign of their displeasure with Obama's ongoing nuclear negotiations with Iran.
-Noel Brinkerhoff, Danny Biederman
To Learn More:
4 U.S. Companies Getting Rich Off Gulf Arab Conflict With Iran (by Alex Kane, AlterNet)
How U.S. Weapons Will Play A Huge Role In Saudi Arabia's War In Yemen (by Dan Lamothe, Washington Post)
Encouraging Arabs and other Muslims to Kill each other is Good for U.S. Weapons Industry (by Noel Brinkerhoff, AllGov)
U.S. Dominates Weapons Export Market as Profits Grow with Sales to the Middle East (by Noel Brinkerhoff, AllGov)
Obama Steps Up Foreign Weapons Sales, Overwhelming Other Arms Makers (by Noel Brinkerhoff and David Wallechinsky, AllGov)