U.S. Dominates Weapons Export Market as Profits Grow with Sales to the Middle East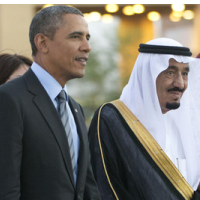 President Obama and Saudi Arabia's King Salman (AP photo)
The global arms trade business continues to thrive, with the United States being the biggest beneficiary of an ever-growing market that's being fueled by Middle East purchases.
IHS Inc., an international information and analytics firm based in Colorado, reported in its Global Defense Trade Report that worldwide arms sales increased last year for the sixth straight year. The total in military trade went from $56.8 billion in 2013 to $64.4 billion in 2014—a 13.4% increase.
The U.S. was responsible for one-third of all defense exports and "was the main beneficiary of growth," IHS reported. American exports of weapons were particularly popular among buyers in the Middle East.
Saudi Arabia surpassed India to become the largest defense market for U.S. weapons makers, as the oil sheikdom increased its defense imports 54% from 2013 to 2014. This year is expected to be another strong year for Saudi imports, IHS says, rising another 52% to $9.8 billion.
"One out of every seven dollars spent on defense imports in 2015 will be spent by Saudi Arabia," according to IHS.
Ben Moores, senior defense analyst at IHS Aerospace, Defense & Security, said: "The Middle East is the biggest regional market, and there are $110 billion in opportunities in coming decade."
-Noel Brinkerhoff
To Learn More:
Saudi Arabia Replaces India as Largest Defence Market for US, IHS Study Says (IHS Inc.)
Charted: The World's Biggest Arms Importers (by Alan Tovey, The Telegraph)
The SIPRI Top 100 Arms-Producing and Military Services Companies, 2013 (by Aude Fleurant and Sam Perlo-freeman, SIPRI) (pdf)
Obama Steps Up Foreign Weapons Sales, Overwhelming Other Arms Makers (by Noel Brinkerhoff and David Wallechinsky, AllGov)