Obama Steps Up Foreign Weapons Sales, Overwhelming Other Arms Makers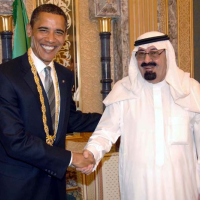 Barack Obama and King Abdullah of Saudi Arabia
Business is booming for American arms exports, thanks to multiple billion-dollar deals between the Obama administration and Arab dictatorships.
According to the annual report by the Congressional Research Service (CRS), the United States, already the world's leader in international weapons sales, outdid itself in 2011 when it sold a record $66.3 billion in military equipment. Last year's arms exports shattered the previous high mark of $31 billion in 2009, and were three times higher than what was sold in 2010, when $21.4 billion in deals were completed.
The $66.3 billion in 2011 represented more than 77% of all international arms sales, which totaled $85.3 billion. Russia was the second leading dealer in military goods, selling only $4.8 billion.
The enormous U.S. haul was driven largely by deals with Saudi Arabia, the United Arab Emirates (UAE) and Oman.
Saudi Arabia purchased $33.4 billion in weapons, including 84 advanced F-15 fighters, dozens of Apache and Black Hawk helicopters, ammunition, missiles and logistics support, as well as upgrades for the 70 F-15 fighters the country already owns.
The UAE bought an advanced antimissile shield (the Terminal High Altitude Area Defense) at a cost of $3.49 billion. It also purchased 16 Chinook helicopters for $939 million.
Oman agreed to buy 18 F-16 fighters for $1.4 billion. The U.S. also sold 18 F-16IQ fighter aircraft to Iraq for $1.4 billion.
It is worth noting that as staggering as the U.S. weapons sales figures are, they are not even complete because data for commercially licensed arms deliveries are not included in the CRS report. According to the report, "Once an exporter receives from the State Department a commercial license authorization to sell—valid for four years—there is no current requirement that the exporter provide to the State Department, on a systematic and ongoing basis, comprehensive details regarding any sales contract that results from the license authorization."
-Noel Brinkerhoff, David Wallechinsky
To Learn More:
Conventional Arms Transfers to Developing Nations, 2004-2011 (by Richard F. Grimmett and Paul K. Kerr, Congressional Research Service) (pdf)
U.S. Arms Sales Make Up Most of Global Market (by Thom Shanker, New York Times)
Boom in U.S. Arms Sales…A Risky Way to Create Jobs (by Noel Brinkerhoff, AllGov)
U.S. Weapons Makers on a Record-Setting Roll (by Noel Brinkerhoff and David Wallechinsky, AllGov)