Private Prison Industry May be Big Winner in Trump/Sessions Immigrant Deportation Plans
Thursday, November 24, 2016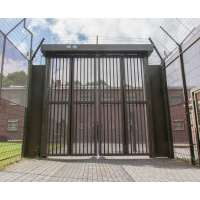 (photo: Shutterstock/Getty)
By Rebecca Boone, Associated Press
BOISE, Idaho (AP) — President-elect Donald Trump's promise to deport millions of immigrants in the country illegally and his selection of tough-on-crime Alabama Sen. Jeff Sessions as attorney general could mean big money for the private prison industry.
Some analysts believe the prison population could climb under the Trump administration, and the stock market seems to agree.
A day after the election, CoreCivic Co., formerly Corrections Corporation of America, saw the biggest percentage gain on the New York Stock Exchange with shares climbing 43 percent.
Geo Group, another private prison company, saw its shares jump 21 percent.
The federal prison population had been trending down for nearly a decade when the Obama administration announced in August that it would phase out its use of some private facilities.
The announcement followed a Justice Department audit saying private facilities have more safety and security problems than government-run lockups.
The policy change did not cover private prisons used by Immigration and Customs Enforcement. However federal officials have also said they would consider phasing out private contactor immigration facilities.
Trump, however, said during his campaign that the nation's prison system was a mess and voiced support for private prisons.
"I do think we can do a lot of privatizations and private prisons. It seems to work a lot better," Trump told MSNBC in March, though he didn't offer any details on what that might mean for the federal prison system.
Immigration and Customs Enforcement holds up to 34,000 immigrants awaiting deportation.
Forty-six of the roughly 180 facilities in which ICE holds those immigrants are privately run, with about 73 percent of detainees held in the private facilities, the agency says.
"Trump was saying during his 100-day plan that mandatory minimums for people re-entering the country would be set at two years — that's going to require a longer-term need for beds," said Michael Kodesch, a senior associate with financial services firm Canaccord Genuity Inc.
Immigration detention centers are particularly profitable for private prison companies because they command a higher rate for each inmate bed, he said.
Yet what's good for investors isn't good for the country, said Bob Libal, executive director of Grassroots Leadership, a national nonprofit group that works to reduce incarceration and detention rates.
"They're handing the keys to a deportation machine over to the Trump administration," Libal said. "And I think there's no reason to believe that the Trump administration won't drive that machine forward through human rights protections or due process protections people in the detention system."
Sessions, Trump's pick for attorney general, was among a handful of Republican senators blocking a bipartisan bill that would reduce lengthy sentences for low-level drug offenders.
McLaurine Klingler, a spokesperson for Sessions, said no one on Sessions' staff was immediately available to talk about his feelings on the DOJ's use on private prisons.
CoreCivic spokesman Jonathan Burns said the company doesn't take positions on proposals, legislation or policies that would determine the basis of an individual's incarceration or detention.
He said the company instead works to "educate lawmakers on the benefits of public-private partnership generally and the solutions CoreCivic provides."
Associated Press writers Sadie Gurman in Denver and Astrid Galvan in Phoenix contributed to this report.
To Learn More:
Top Private Prison Firm Tries to Prevent Public Disclosure of Documents Exposing Prison Operations (by Travis Loller, Associated Press)
U.S. Justice Dept. Launches Effort to Phase out Private Prisons…but not including Immigrant Detention Centers (by Robert Kahn, Courthouse News Service)
America's Largest Private Prison Operator Sued over Understaffed, Violence-Prone Jails (by Philip A. Janquart, Courthouse News Service)
"Model" Private Prison Slammed for Poor Conditions (by Noel Brinkerhoff, AllGov)