America's Largest Private Prison Operator Sued over Understaffed, Violence-Prone Jails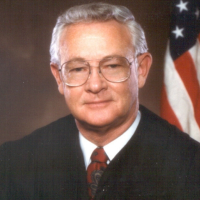 Judge Edward Lodge
By Philip a. Janquart, Courthouse News Service
BOISE (CN) - A jury will decide whether Corrections Corporation of America is liable for a brutal attack on eight prisoners who claim CCA intentionally empowers gangs and understaffs its prisons to boost profits, a federal judge ruled.
U.S. District Judge Edward Lodge on Thursday set the trial for Dec. 13.
Corrections Corporation of America is the largest operator of private prisons in the United States, running 67 prisons in 20 states with a capacity of 92,000 inmates. Its stock is traded on the New York Stock Exchange, and it reports about $2 billion in annual income.
Omar Castillon and his seven co-plaintiffs were inmates at the Idaho Correctional Center near Boise when they were attacked by gang members who jumped out of a closet and beat and stabbed them, some of them as many as 18 times, according their November 2012 federal complaint against CCA.
Castillon et al., who called the attack "attempted murders," sued CCA for constitutional violations, and failure to protect them from harm.
They claim that CCA, which had a contract with the Idaho Department of Corrections for 10 years, hid its "cruel and unusual punishments" from the state, despite repeated lawsuits against CCA over the year.
The Associated Press reported in 2013 that CCA had falsified reports to hide understaffing, in violation of a court order and its $29 million annual contract with the state.
Idaho Gov. Butch Otter ordered the Idaho Department of Corrections to take over the prison in 2014.
The CCA rejected the allegations in the new lawsuit.
"The safety and security of our facilities is our top priority," CCA spokesman Steven Owen told the AP on Thursday. "The Idaho Correctional Center was appropriately staffed at the time of this incident, and we are confident we will prevail on this claim at trial."
The attack at issue came two days after members of the Aryan Knights and the Severely Violent Criminal gangs descended on them with shanks, razors and other weapons, Castillon et al. say.
"CCA would have avoided the attempted murders if CCA had taken adequate precautions to protect the plaintiffs such as desegregating gangs and employing sufficient guards," the complaint states.
CCA sought summary judgment in September 2015, claiming the "undisputed facts" fail to show a "deliberately indifferent" custom or policy led to the attack.
Judge Lodge disagreed.
"CCA's persistent understaffing, its awareness that such policy was insufficient to protect inmates due to repeated warnings by various employees, violence within the DEF unit, and a similar inmate attack mere months before the attack on plaintiffs, its contractual agreement to change its policies ... and CCA's blatant failure to address the problem despite such circumstances, established for purposes of summary judgment that CCA had a policy of deliberate indifference to the safety and well-being of prison inmates, in violation of the Eighth Amendment," he wrote in a 40-page order.
Lodge also found, however, that the inmates did not support their claim that CCA empowers gang members.
"While there is evidence to suggest both the prior and instant attack were possible due to pervasive understaffing, there is nothing to suggest either attack was caused by the policy of clustering gang members together," the judge wrote.
He said CCA's contempt of court in failing to remedy the situation in a separate lawsuit can be used as evidence in the Dec. 13 trial.
To Learn More:
Putting Immigrants in Prison is Profitable…if You're the Corporations CCA and GEO (by Noel Brinkerhoff, AllGov)
"Model" Private Prison Slammed for Poor Conditions (by Noel Brinkerhoff, AllGov)
Private Prison Company Muscles into Law Enforcement, Creating Occupants for Its Prisons (by Matt Bewig, AllGov)
Private Prison Industry Panics as States Rethink Costs of Mass Incarceration (by Noel Brinkerhoff, AllGov)
Private Prison Company to Demand 90% Occupancy (by Noel Brinkerhoff and David Wallechinsky, AllGov)