"Model" Private Prison Slammed for Poor Conditions
Tuesday, February 12, 2013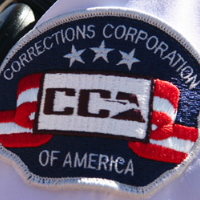 When one of the nation's largest private prison operators agreed two years ago to take over an Ohio penitentiary, it promised to make it a model for how the private sector could handle state corrections.
State officials are now wondering if the move to sell the 1,700-bed Lake Erie Correctional Institution to Corrections Corporation of America (CCA) was a good idea.
Government inspectors in September reported unsafe and unsanitary conditions at the prison, including inmates lacking immediate access to running water and toilets. There also were reports of prisoners having to use plastic bags for defecation and cups for urination. The inspectors also reported padlocked fire exits, likely falsification of food service records and a failure to monitor "pill call" when prisoners receive medications.
In addition, prisoners complained about problems with gangs and assaults within the prison, which has experienced a 20% turnover among staff and a 21% increase in violent attacks since CCA took over.
The state has fined the company nearly half a million dollars for the many problems at the facility. A follow-up report commended CCA for fixing many of the deficiencies cited in the initial audit.
CCA purchased the Lake Erie Correctional Institution, which is located just east of Cleveland, for $72.7 million at the end of 2011 in exchange for a guarantee of a 90% occupancy rate.
-Noel Brinkerhoff
To Learn More:
Auditors Uncover Problems At Private Prisons In Ohio (by Laura A. Bischoff, Dayton Daily News)
Lake Erie Correctional Institution, Ohio Private Prison, Faces Concerns About 'Unacceptable' Conditions (by Chris Kirkham, Huffington Post)
2012 Full Internal Management Audit Report (Ohio Department of Rehabilitation and Correction) (pdf)
Texas Pays for Private Prisons while Thousands of Beds in Public Prisons are Empty (by Matt Bewig, AllGov)
Private Prison Company to Demand 90% Occupancy (by Noel Brinkerhoff and David Wallechinsky, AllGov)