Acting Assistant Secretary of State for Oceans, Environment and Science (OES): Who Is Judith Garber?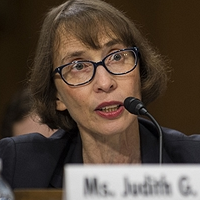 Judith Garber (photo: Getty Images)
The State Department's top diplomat for international scientific affairs—including global warming, which the Trump administration denies—is Judith Garber, who in April 2014 was promoted from principal deputy assistant secretary in the Bureau of Oceans and International Environmental and Scientific Affairs (OES), a job she had held since 2012.
The daughter of Evelyn Garber and Texaco accountant Seymour Garber, Judith (Judy) G. Garber was born circa 1961, and grew up in and around the New York City metropolitan area. She earned her B.S. in International Economics at Georgetown University's School of Foreign Service in 1983. Prior to joining the Foreign Service in 1984, Garber worked at the Board of Governors of the Federal Reserve and the Department of the Treasury.
Garber's early State Department assignments included overseas postings as economic counselor in Madrid, Spain; deputy economic counselor in Tel Aviv, Israel; economic officer in Prague, Czech Republic; economic officer in Mexico City, Mexico; and vice consul in Seville, Spain. Garber's Washington assignments have included director for overseas development finance in the Bureau of Economic and Business Affairs, working with the multilateral development banks on Haiti reconstruction, tsunami relief, and Pakistan earthquake reconstruction.
Garber then moved laterally to the Bureau of European and Eurasian Affairs, where she served as director of North Central European affairs, overseeing bilateral relations with the Czech Republic, Hungary, Poland, Romania, Slovakia, Bulgaria, and Slovenia.
Garber was promoted to deputy assistant secretary in the Bureau of European and Eurasian Affairs in October 2007, where she oversaw bilateral relations with Nordic, Baltic, and Central European countries.
Garber served as ambassador to Latvia from August 2009 to July 2012, the first career diplomat to the small Baltic nation since Brian E. Carlson served in Riga from 2001 to 2004. Garber's two immediate predecessors, Catherine Todd Bailey and Chuck. Larson, Jr., were non-career appointees who raised hundreds of thousands of dollars for the 2004 presidential campaign of George W. Bush.
Garber's husband, Paul Wisgerhof, also served in the Foreign Service and was deputy director of the Office of Foreign Policy Trade Controls. She has a stepson, Douglas, a son, Ryan, and a daughter, Elizabeth.
-Matt Bewig
To Learn More:
State Department Cables 2004-2011 (WikiLeaks)
Ambassador to Latvia: Who Is Judith Garber? (by Matt Bewig, AllGov)
Officially In: Judith G. Garber to Riga (Diplopundit)