Republicans Clarify Support for Clean Energy: It's for Job Growth, Not Climate Change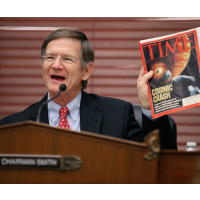 Rep. Lamar Smith (photo: Getty Images)
By James Osborne, New York Times
WASHINGTON - Texas U.S. Rep. Lamar Smith has made a name for himself as one of the country's leading climate change deniers, issuing subpoenas to state attorneys general investigating oil companies and questioning the scientific chops of the National Oceanic and Atmospheric Administration.
But earlier this month, the San Antonio Republican was back in his seat as chairman of the House Committee on Science, Space and Technology arguing to expand government spending on solar and energy storage technologies. Avoiding terms like fossil fuels or climate change, Smith stuck to statements like, "breakthroughs in energy storage are one of the next frontiers, without costly subsidies or mandates."
The seeming contradiction of endorsing government research into clean technology while arguing against one of its fundamental reasons for being - climate change - is not uncommon in Washington these days. As Republicans maintain their party's long-standing blockade against action to reduce carbon emissions, they also are embracing a renewable energy industry that is driving investment and jobs in GOP strongholds like Texas.
The balancing act comes as the battle lines around climate change are being redrawn. Exxon Mobil, the country's largest oil company, is supporting a tax on carbon emissions, falling in line with European competitors like BP and Royal Dutch Shell. Prominent Republican donors are putting millions into the congressional campaigns of candidates willing to offer their support for the renewable energy industry.
"There is something happening (among Republicans), and it's always difficult when things are changing to get a real clear understanding of where it's going to end up," said Charles McConnell, former assistant secretary of energy under President Barack Obama and now executive director of Rice University's Energy and Environment Initiative. "The issue is not whether the climate is changing and how (carbon dioxide) contributes but how do we address it most effectively. Where Republicans are struggling is the way of life fossil fuels provide us is now under direct attack."
A small but growing number of Republicans are pressing to shift the party's stance on climate change, not through forecasts of rising oceans and crop failures but by embracing clean energy as a business opportunity and chance to be at the forefront of technology that one day might power the world.
In contrast to regulatory measures put forward by the Obama administration, these Republicans argue the answer to slowing climate change lies in "free market principles" that have been the bedrock of the party for decades.
Two prominent GOP donors, Jay Faison, a North Carolina businessman, and Julian Robertson, the hedge fund billionaire, plan to pump at least $5 million into Senate and House races this year to support Republicans willing to embrace their pro-clean energy platform - which includes nuclear power and so-called clean coal - even if they don't agree on the causes of climate change.
'Agree on the solution'
So far, the ClearPath Action Fund, a political action committee founded by Faison last year, has signed on Republican senators Rob Portman of Ohio and Kelly Ayotte of New Hampshire - both of whom are facing tough Democratic challenges in November. In the House, the PAC is supporting Representative Carlos Curbelo, who has expressed concern about rising sea levels in his South Florida district, and two New York representatives, Elise Stefanik and Rep. Tom Reed.
Faison said they plan to support another three to six other candidates this election.
"I'm a business guy," Faison said. "As long we agree on the solution, I don't care if we agree on the problem."
But Faison and his allies face an uphill battle. The GOP's presumptive nominee, Donald Trump, calls climate change research overblown. Among the Republican rank and file, any whiff of capitulation on climate change meets steadfast opposition.
Outside a hearing on the EPA this week, Rep. Joe Barton, a Republican from Elise and former chairman of the House Committee on Energy and Commerce, said, "Carbon dioxide is not a pollutant. I am breathing CO2 out right now, and later I'm going to drink a soda with CO2 in it."
Last year, when the Senate voted on a resolution whether humans influence climate, only 15 of the 54 Republicans voted yes. Sen. John Cornyn, the Texas Republican and majority whip, was not among the yes votes. The climate appears to be changing, he explained, but there are still questions about what is causing it.
"I don't see us disadvantaging our (oil, natural gas and coal) resources that we've been given by the grace of God," he said.
The approach to climate change embraced by the world's largest oil companies and many economists, conservative and liberal alike, is a so-called carbon tax - a levy on the emissions of greenhouse gases such as carbon dioxide. Such a tax, they say, would put a price on a harmful activity that is not accounted for in the economy - akin to allowing garbage trucks to dump wherever they please without any fine or other repercussion.
Carbon tax a hard sell
Bob Inglis, a former South Carolina congressman who heads the conservative climate change group republicEN, is lobbying for a carbon tax that would apply not only to U.S. firms but also foreign companies that export into the United States.
As the world's largest economy, he said, a U.S. move would force similar action by China and other countries. That would avoid what he described as a patchwork of emissions regulations, across industries, countries and even states, that bog down innovation and development.
"Right now, the only solutions being offered are so painful that Republicans are refusing to believe the underlying problem," he said. "If you show them good things flow when you hold (emitting companies) accountable, and innovation will grow and you will bring wealth, then the disbelief will disappear."
For now, though, a carbon tax remains a hard sell. As Exxon lobbyists met with members of Congress last month to express the oil company's support for such a measure, Rep. Steve Scalise, R-La., introduced a resolution that a carbon tax would hurt the U.S. economy. Not a single House Republican voted against it.
Even Democrats, who have made climate change a key issue in this year's elections, are treading carefully. The party, ahead of its upcoming convention in Philadelphia, released a draft platform that called for "carbon pricing" - avoiding the term "carbon tax."
Faison and other Republican donors, meanwhile, continue to focus on the economic benefits of clean energy to regions like West Texas, where a yearslong boom in wind turbine construction has pumped investment and jobs into rural communities.
Wind farm investment in Texas last year topped $30 billion, supporting more than 24,000 jobs, according to the American Wind Energy Association, a trade group.
At the same time, clean energy firms are becoming a more powerful force in politics. Between 2006 and 2014, the industry increased spending on mid-term congressional elections by nearly five times, to $2.5 million, according to the Center for Responsive Politics, a nonprofit that tracks campaign spending. More than 40 percent of that money went to Republicans.
That's a fraction of the money spent by fossil fuel interests. But last year, when conservative groups such as the American Legislative Exchange Council and Americans for Prosperity lobbied state legislatures to drop polices that support wind and solar energy, they were ignored by Republican politicians in the vast majority of states.
In Texas, the Republican-dominated Legislature never even brought to vote a bill introduced by then-Sen. Troy Fraser, R-Horseshoe Bay, to kill the state's renewable energy credit program as well as a $7 billion transmission line project to bring the electricity from wind farms to Houston and Dallas-Fort Worth.
"I live in a region of the state we've experienced booms and busts on hydrocarbons, but one constant remains, the sun and wind," said state Rep. Drew Darby, R-San Angelo, chairman of the Energy Resources Committee. "You're talking about investing $500 million into a region for a single (wind) project. As a byproduct, does that mean our environment is a little cleaner? Then it's win, win, win."
To Learn More:
Republican Congressional Majority May Still Deny Climate Change, but These GOP Lawmakers Beg to Differ (by Noel Brinkerhoff, AllGov)
Climate Change Doubters—Particularly Among Republicans—Hit Record Low (by Steve Straehley, AllGov)
Sen. Inhofe Goes for Hypocrisy Record, Saying Climate Change is a Hoax, but Nuclear Power is Good because it Avoids "Dangerous Climate Change" (by Steve Straehley, AllGov)
12 Catholic Members of Congress Whose View of Climate Change Departs from the Pope's (by Noel Brinkerhoff, AllGov)
House Republicans Clash with Pentagon over Climate Change and National Security (by Noel Brinkerhoff and Steve Straehley, AllGov)