Climate Change Doubters—Particularly Among Republicans—Hit Record Low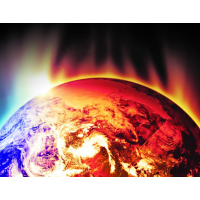 (graphic: Duncan Walker, Getty Images)
The light bulb is starting to glow a bit among Republicans who finally are starting to believe that global climate change is a real phenomenon.
A poll (pdf) released last week showed that the percentage of those who doubt that climate change is real has hit a new low. Last fall, 41% of self-identified Republicans told pollsters they didn't believe in climate change; now that number has fallen to only 26%. By comparison, only 9% of Democrats and 17% of independents doubt climate change, down from 15% and 21%, respectively, a year ago.
"The big shift here is amongst Republicans, and it is a huge one," Barry Rabe, professor of public policy and environmental policy at the University of Michigan, and a co-author of the poll, told ClimateProgress. "Most survey work has found a gaping divide between self-identified Democrats and Republicans on this issue for many years now. This suggests that those differences still persist, but have declined significantly. We did not anticipate this."
Rabe pointed out that the greater numbers of people now experiencing the effects of climate change have contributed to the switch. "The drought issue is affecting big regions of the country," he said. "Drought is not just a narrow, localized issue now. A lot of people live in areas where there is some degree of drought."
Fifty-six percent of Republicans support the evidence behind global warming. That's the highest that number has been since 2008, just as the GOP establishment began to attack President Barack Obama and his policies, including climate change mitigation, as a matter of course.
The switch doesn't mean the GOP will start backing efforts to halt climate change, however. "Does this suggest a shift that's going to shift public policy?" Rabe said to Time magazine. "That's not at all clear. It's only one snapshot."
-Steve Straehley
To Learn More:
Poll Finds Fewer Americans Than Ever Doubt Climate Change Is Happening (by Marlene Cimons, ThinkProgress)
Americans' Denial of Climate Change Hits Record Low, Survey Finds (by Justin Worland, Time)
Acceptance of Global Warming among Americans Reaches Highest Level since 2008 (by Christopher Borick, Barry G. Rabe and Sarah B. Mills; Center for Local, State, and Urban Policy; Gerald R. Ford School of Public Policy) (pdf)
People Who Live Inland more Likely to Deny Climate Change…and so are People Exposed to Media Owned by Rupert Murdoch (by Noel Brinkerhoff, AllGov)
Conservative Koch-Funded Global Warming Skeptic Flips Sides (by Noel Brinkerhoff, AllGov)