Office of Fossil Energy: Who is Charles McConnell?
Sunday, November 20, 2011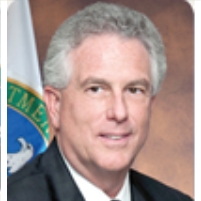 A longtime energy industry executive, Charles D. McConnell was nominated in July by President Barack Obama to take over the
Department of Energy
's
Office of Fossil Energy
, which is the U.S. government's lead office for coal, natural gas and oil exploration and development. He is still awaiting confirmation by the Senate.
McConnell was born and raised in the small steel town of Steubenville, Ohio. His mother worked as a school teacher and his father was employed at the same steel mill for 37 years.
While attending college at Carnegie Mellon University, McConnell spent two summers working in a steel mill and a power plant. He graduated with a degree in chemical engineering in 1977. Later he earned an MBA in finance from Cleveland State University in 1985.
His first job after college was as a plant engineer and manager for Union Carbide at facilities
in Ohio, Pittsburgh and on the East Coast.
Later, McConnell worked on a joint venture between Union Carbide and Texaco that focused on gasification and hydrocarbon conversion.
He wound up spending 31 years with Union Carbide, which later became Praxair. He held various positions in the U.S. and Asia, including a three-year stint in Singapore as
managing director for Asian markets. He also was in charge of Praxair's North American Hydrogen and Carbon Monoxide operations, directed its North American Sustainable Development program, was responsible for its Oxy-Coal Technology and R&D and lobbied the government.
McConnell ended his career at Praxair in Houston, Texas, retiring as global vice president in 2009.
He then went to work for two years as vice president of carbon management at Battelle Energy Technology in Columbus, Ohio, where he was responsible for business and technology management, including leadership of the Midwest Regional Carbon Sequestration Partnership.
At the time of his nomination, McConnell was serving as chief operating officer in the Office of Fossil Energy, managing daily operations of programs, including strategic planning, program direction and evaluation. He also has overseen the office's administrative and
budgetary operations.
Throughout his career in the private sector, McConnell held several advisory positions, including
-Noel Brinkerhoff
Prepared Statement of Charles D. McConnell (Senate Committee on Energy and Natural Resources) (pdf)